It took us about an hour and a half to get down to the shuttles from our seat at Turn 6. By the time we got home it was just about time to get showered and out to dinner. We couldn't really decide on what we wanted, but since we were in Texas, Nick really wanted barbecue. Lauren and Truman took us to this great BBQ place called
Stiles Switch
that they saw on a friend's blog. Hah hah! Another food blog!
Everyone in Austin is so nice! One of the employees let Truman taste test all of the beers on tap to make sure that the would like what he bought. The food was delicious too. They were out of a lot of the stuff that we wanted, so I tried the smoked turkey. Oh. My. Gosh. It was the best turkey I've ever had. We need to buy a smoker when we get a house so that we can make smoked turkey for Thanksgiving.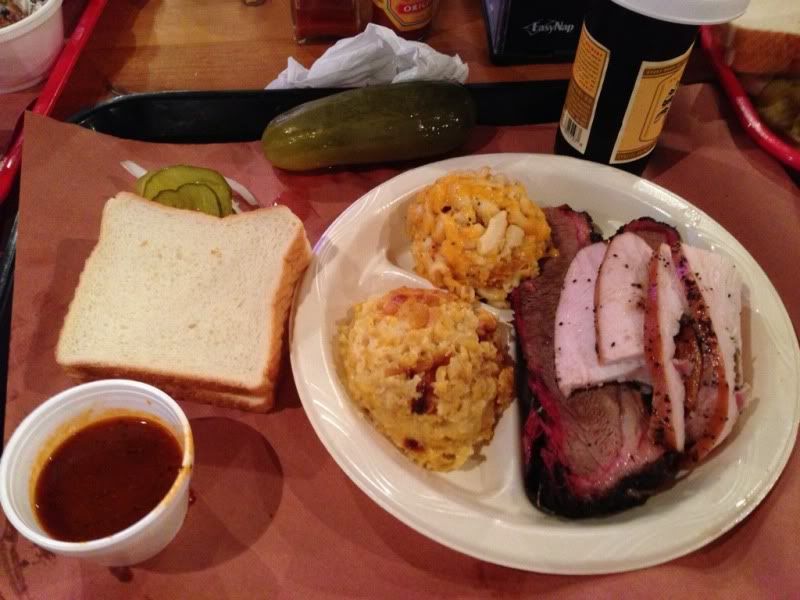 Lauren and I got the brisket and turkey. She got cole slaw and I got a corn
casserole and mac n' cheese. I also got a giant pickle.
Nick got the biggest plate with three meats: cheddar-jalapeno sausage, brisket,
and rib. He also got a chocolate banana pudding.