We have it coming out of our ears. A few weeks ago I had baked the little pumpkins that I got to decorate for Halloween. I thought it was a great idea to buy pumpkins that we could actually eat instead of the normal carving pumpkins. I suppose you can eat those too, but they are a different variety and I think less easy to cook. I had already used one of my four pumpkins to make a stew a while back. I saved the other three to make pumpkin pies. It was a rather ambitious feat for me, but in the end it all worked out. I had to separate my pumpkin cooking into days. Thankfully cooked pumpkin freezes well. After baking them for a couple of hours, I peeled away the skins and put them into a large Ziplock bag. By the time I was done with
monkey bread
I just didn't feel like making anything else. I was able to save all of the pumpkin for Thanksgiving.
We haven't gotten a food processor yet because I'm not sure where I'd store it in our apartment. We've been using my tiny
Magic Bullet
for anything that needs to be blended. I didn't have it in me to blend up that much pumpkin in the Bullet so I borrowed my Mom's food processor that I'm pretty sure is older than me. Whatever the case, it got the job done in a jiffy. We had gotten out early from work on Thanksgiving Eve so I set to making running shirts for Christopher and myself and then on the pumpkin to have it ready for Thanksgiving.
The three pumpkins produced much more puree than I was expecting. Baking your own pumpkins is definitely more bang for your buck than buying canned puree, but I'm not sure if I'll do this again next year. We'll have to see how I feel when Halloween rolls around. I was able to make six pumpkin pies and pumpkin-cranberry muffins, which will be in another post. I still have puree left so I'm going to try to make pumpkin bread to hopefully finish it off. If there is still puree left my plan is to make a creamy pumpkin-cauliflower soup. We'll see if I have any pumpkin left. Hopefully not.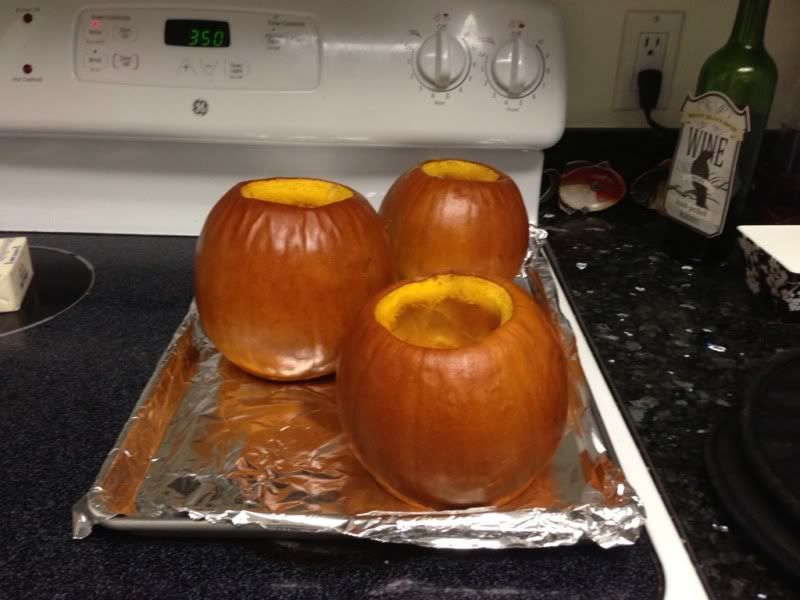 This is my largest Pyrex bowl that holds four quarts. I had to make pies so
that the cover would close.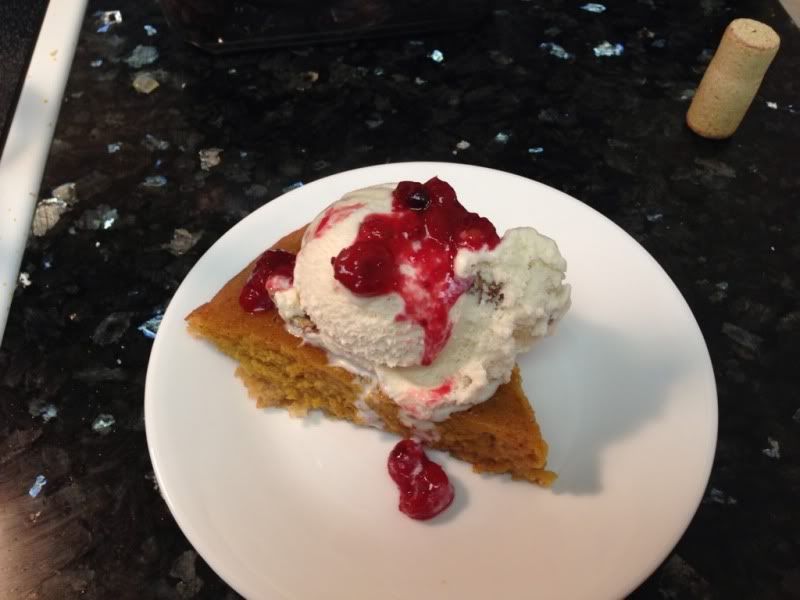 I also set to work making cranberry sauce for Thanksgiving dinner. Nick and
Christopher "taste tested" it for me on their pumpkin pie a la mode.
If you follow me on Facebook you'll have already seen these, but we ran the
Walnut Creek 10k Turkey Trot on Thanksgiving morning. I did it in just under
an hour and ten minutes, while Christopher did it in an hour and 16 minutes.