On Saturday night Nick went to Frank and Jenelle's to accompany them while they were whipping up a new batch of beer. I stayed home to bake my remaining pumpkins from Halloween to make pumpkin pies. Well, I finished baking the pumpkin, but I got lazy and didn't make pumpkin pies. I'm going to freeze the cooked pumpkin and use it for Thanksgiving. I did, however, harvest the pumpkin seeds. Christopher and I would ask my mom every year to make them for us, but would never eat them. We would suck the salt off and throw away the seeds, which would make her mad because it was a pain to get the seeds out of all the stringy pumpkin. I think because these were a different variety of pumpkin they were really easy to clean under water in a strainer. I then sprinkled them liberally with nutmeg and sea salt. I baked them at 375 with the pumpkins for about an hour.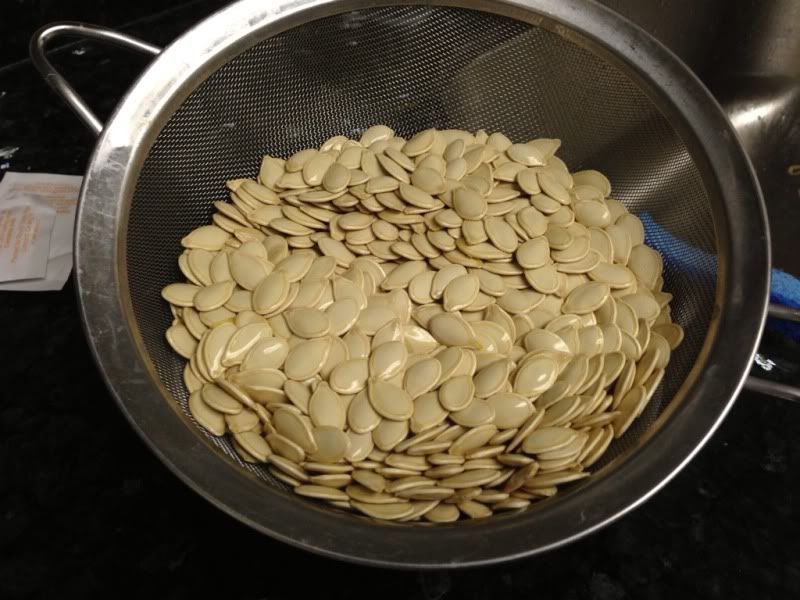 I was also in the baking mood from watching hours of Christmas movies. Seeing the Pillsbury cinnamon roll commercials made me want to make some. I'm sure it didn't help that Ikea smelled like a Cinnabon store. Unfortunately, I didn't have enough ingredients to make cinnamon rolls from scratch, but I did have the ingredients to make a
Bisquick-based monkey bread
. Christopher had been wanting a donut all day and I managed to coax him out of the house to have monkey bread. The prospect of monkey bread out weighed his desire to not watch Christmas movies with me. So we watched hours of Christmas movies while playing
Words With Friends
. I think normal people play Scrabble to bond, but I didn't have it. It was like the year that I was really into
High School Musical
and we'd stay up until the wee hours of the night doing the Wii sing-a-long and learning the dance moves. Well, I did the singing and dancing while he did his Warhammer models. Bonding.