We were invited by our venue to an event to meet their preferred vendors. We had no idea what to expect from this invitation below:
I figured that we're paying so much for the venue that we may as well go to their complimentary event to at least have some "free" wine. Oh it was so much more. There were vendors EVERYWHERE. Casa Real basically set up their own bridal fair for their clients. They have a lot of clients.
We first knew that it was much bigger than we imagined when we pulled into the parking lot and there were attendants telling us where to park. In the beginning, the event was a little bit overwhelming because of all the people talking and pushing through to try different cakes and foods. Everything was complimentary and I'm pretty sure that I ate at least eight day boat scallops. After a while, Nick refused to go up and get me more from the table and I didn't want to go because the guys were starting to recognize me. We also tried a bunch of their other hors d'oeuvres that they had on their menu. The scallops were definitely my favorite. Between the giant glass of wine that the bartender poured and the scallops, I had myself at least $40 meal. I feel slightly less guilty now about the cost of the venue. They fed me pretty good food so I'm happy.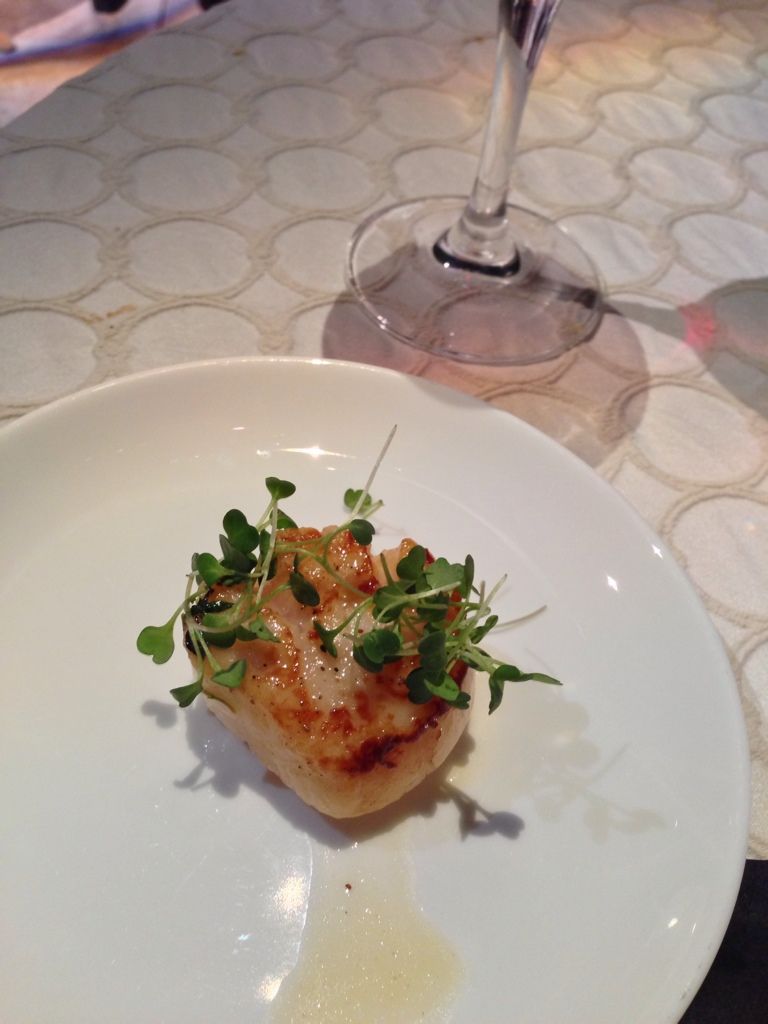 These were prepared in butter, thyme, lemon juice, and white
wine. The were perfectly cooked on the inside. I asked and
the cook and his assistant said that they are the ones who
actually make them at the weddings. I'm definitely going to have
to consider them, but I think this option is an extra $6 a head.
Nick and I will have to discuss it and look at how our budget is
going so no promises there.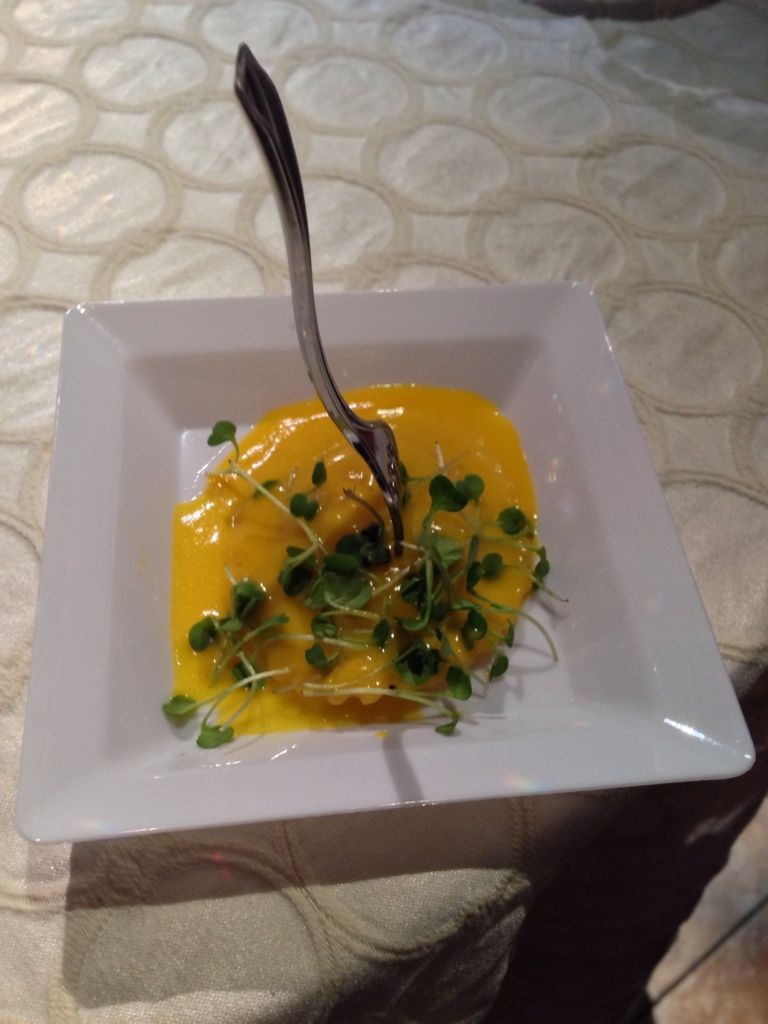 Sweet onion and mushroom ravioli in a butter cream sauce.
Cheese plate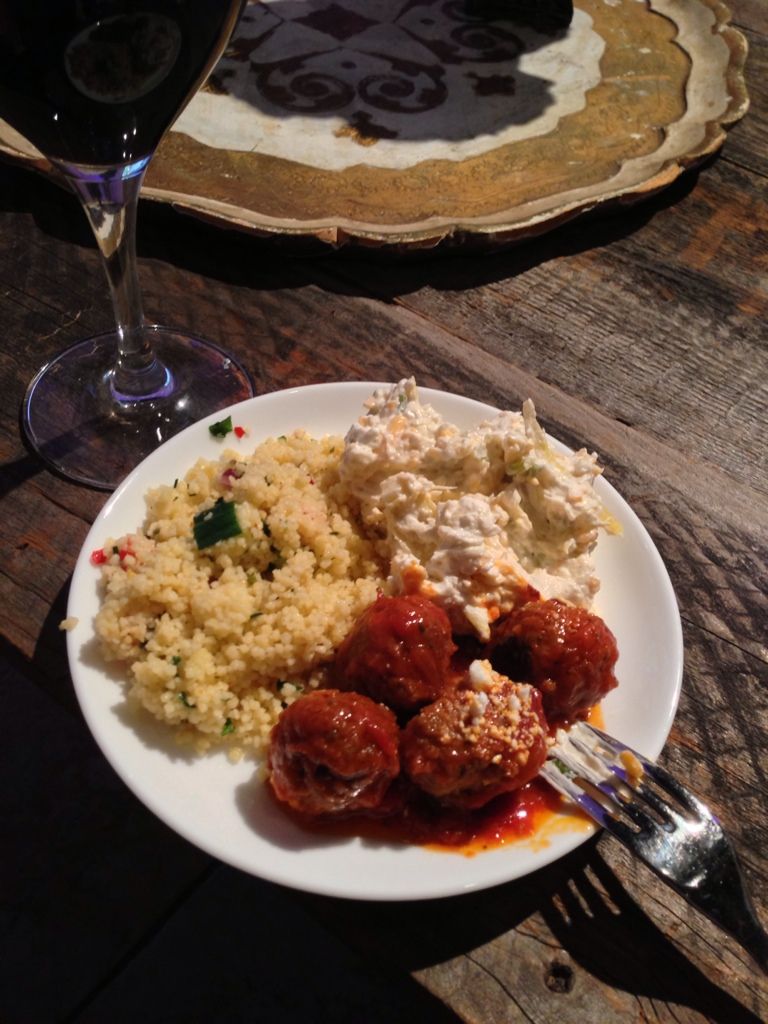 Cous cous, meatballs, and warm artichoke dip. Nick thought
that the meatballs were very standard and noted that they
tasted similar to Costco's. No points earned for the meatballs.
Filet mignon with a potato cake. We both liked the potato more than the filet,
but know that the filet is what gets the oohs and ahhs. The potato was like a
mini hash brown. The filet was cooked well, but I thought it lacked seasoning
and the gravy was very standard like something that I would make from a pre-
mixed packet.
Nick had a bacon-chocolate mini cupcake. He later also
had a s'mores cupcake which went into his mouth too fast
for me to take a picture of.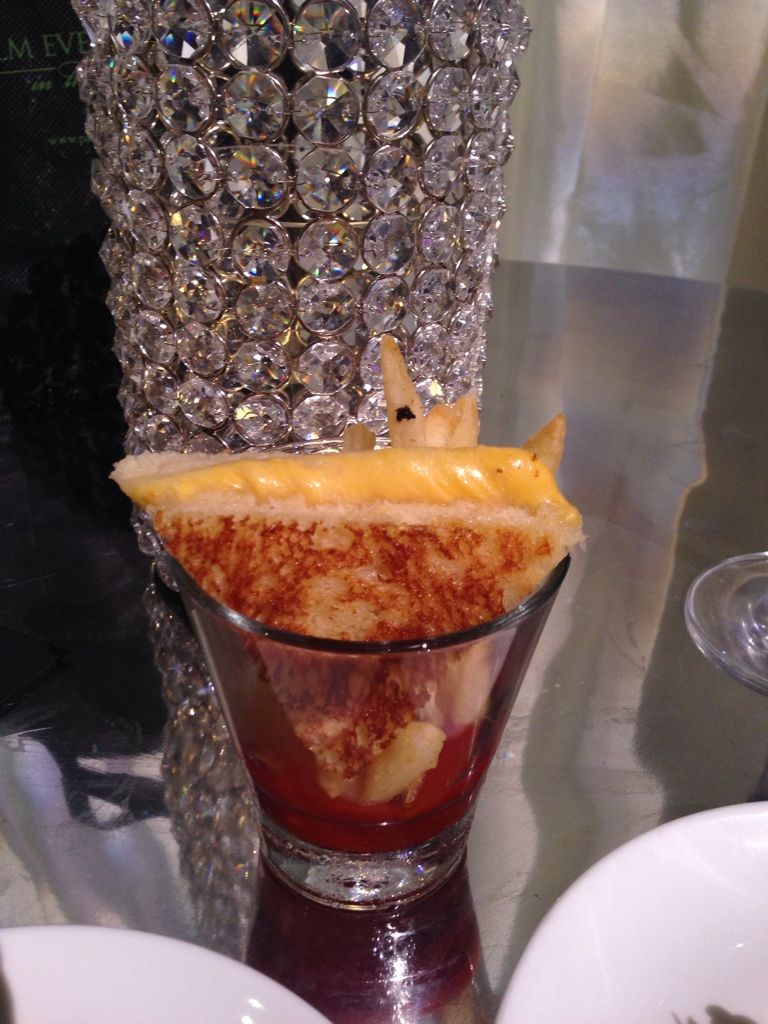 Two-cheese grilled cheese with fries and ketchup. I thought
this was cute for kids and I love grilled cheese sandwiches.
I've been a little bit worried that the food would be very lack luster at our wedding. My fears are only half sated after the vendor event. We're going for a tasting in May, but we can only do so much with the choices that they give us. I don't really want just standard wedding food, but I guess there isn't much we can do about it. We don't have the option to bring in our own caterers as it comes with the venue package. I've read good reviews about their chosen catering company so my fingers are crossed. Tonight's display of food was average. The scallops definitely got top marks from me, but the rest was just mediocre. Unfortunately, I think I'll have to lower my standards a tad.