After practice day, Nick and I headed back to our friends' house to clean up and get ready for dinner. I had planned for us to go to
Uchiko
where
Paul Qui,
the last
Top Chef
winner, is the executive chef. This dinner was for the both of us since we didn't really do anything for our anniversary this year. We decided on getting the ten-course chef's tasting (
omakase
). Midway through our dinner, Nick got very excited. Naturally, I thought that he saw Paul. I had been staring into the kitchen for the better part of the meal looking for him. Nope, not Paul. Nick excitedly whispered, "
Sebatian Vettel
is here!" to which I responded, "Who?". He is the 2011 F1 champion and is in line to be the 2012. After that, I became very fan-girly on his behalf, but he refused to go up to him for his autograph. He didn't want to be
that
guy who interrupts a dinner. I'm totally
that
girl.
Anyway, on to the food! We found that the food when eaten piece meal was just so-so, but when eating all of the components together as intended, it was delicious. I don't like fish much, but I really enjoyed the dishes.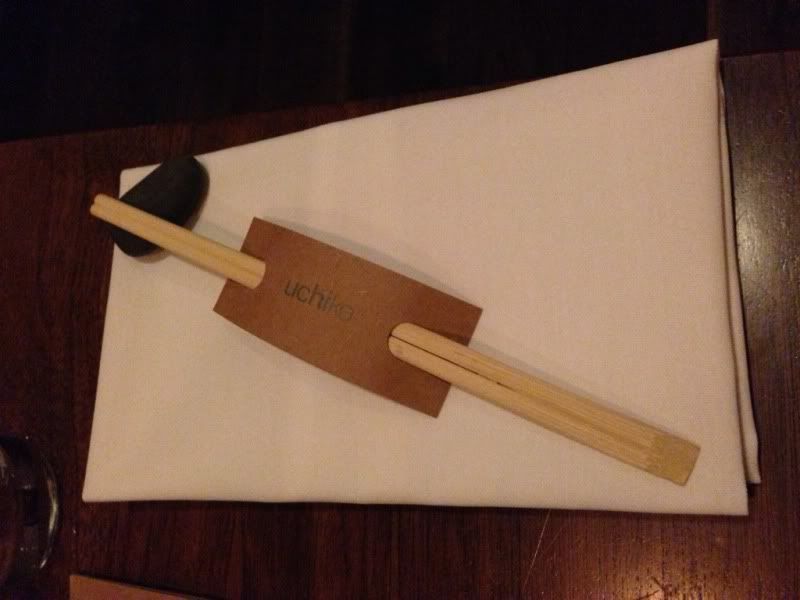 I kept the chopstick holder as a keepsake to go with the wine label that I kept
from Incanto. So far we've been to five Top Chef restaurants, but I've only saved
items from two. I guess we'll just have to go back so that I can collect trinkets!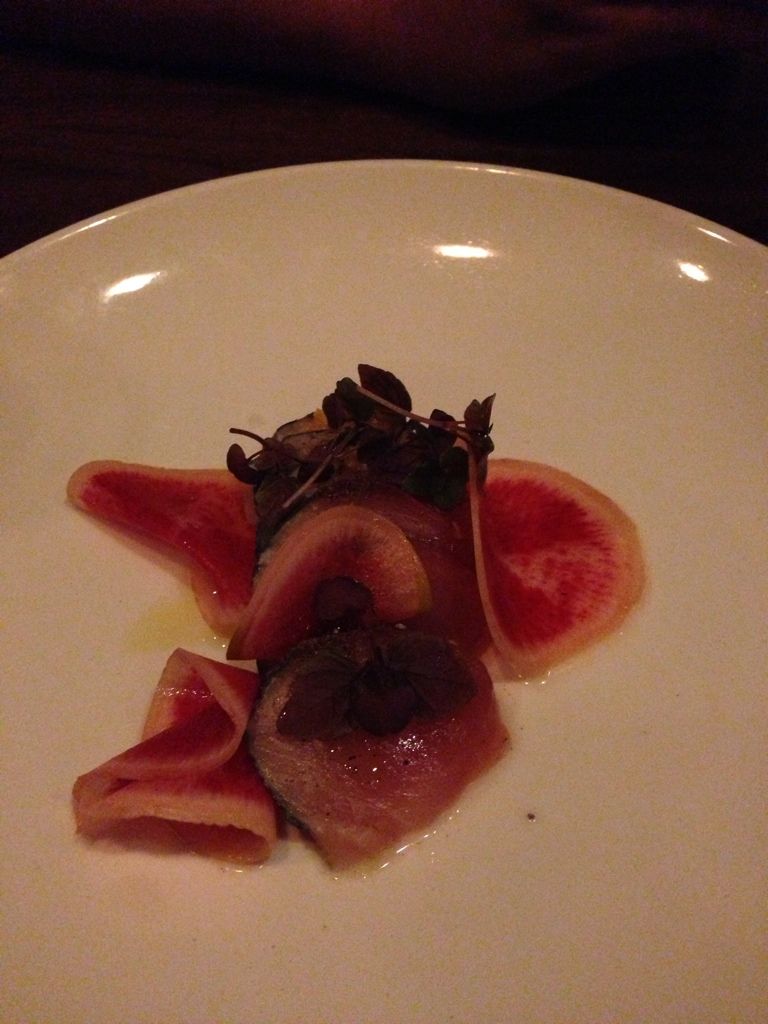 I can't match this one with anything on the menu, but
it was a smoked fish with pickled watermelon radish.
Gindara: grilled sabelfish, myoga, yuzu, and grape
Uni: sea urchin, basil and sea salt over sushi rice.
Suzuki Yaki: grilled Mediterranean sea bass, tomato, mint,
and Thai chili
I think this is the Bacon Tataki: Kurabuta pork belly,
black lime, espresso fish carmel, coriander citrus. The white
chunks are pieces of Asian pears. I was having a hard time
matching this dish up with the menu, but I know for sure
that it's pork belly and Asian pear.