After my baking spree, we went to see
Skyfall
, the new James Bond movie, with my family. Because I always watched James Bond movies with my Dad, it didn't feel right going to see it without him. So we got ourselves a family-sized popcorn and settled in for the afternoon into the comfy movie theater chairs. I tried to ignore all the germs and possibilities of lice and bed bugs. I much rather watch movies at home, but this seemed like one that we needed to see on the big screen.
The movie was much longer than we had anticipated so we had to rush back home to start our contribution to our second Thanksgiving dinner with the Chins. To make things easy, we offered to bring roasted vegetables and garlic green beans. I had parboiled the green beans the day before and the potatoes were precooked, but it still took quite a bit of time to roast. By the time we ended up getting in the car and out to the City, everyone was already starting dinner! It's a good thing we didn't offer to bring appetizers.
There was a lot more food, but I didn't get pictures of them all.
One of my aunts made the best fried chicken. This was a new dish to us, but
I'm going to have to request this for Christmas too.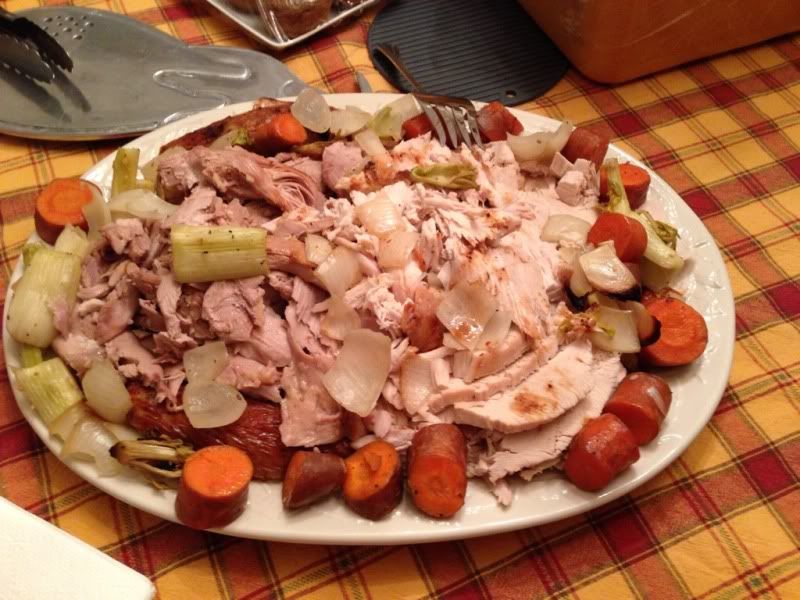 Because our family is so big, this is two turkeys.
My Auntie May always brings ham, which I'm all over.