On Saturday my Mom and I headed out to the City to look at
Cheongsams
for the wedding. For the amount of shopping that I generally like to do, I've been very anti-shopping with the wedding dresses. We originally had two appointments, but after the first appointment, I didn't want to go walking around to look for the second dress shop so we bought one then and there. Afterwards, we went across the street to try out Penang Garden. I had heard about this place from a friend and the Fongs tried it after we came back from Malaysia. I didn't think it was anything spectacular. It was a little pricey and I thought that the chicken from the chicken rice that we ordered was dry. By the yellow color of it, the chicken looked like it had been one of the boiled, hanging chickens in the window of a shop down the street. When we had it in Malaysia and when I tried making it myself, the skin was very pale in color and the meat was very soft and juicy.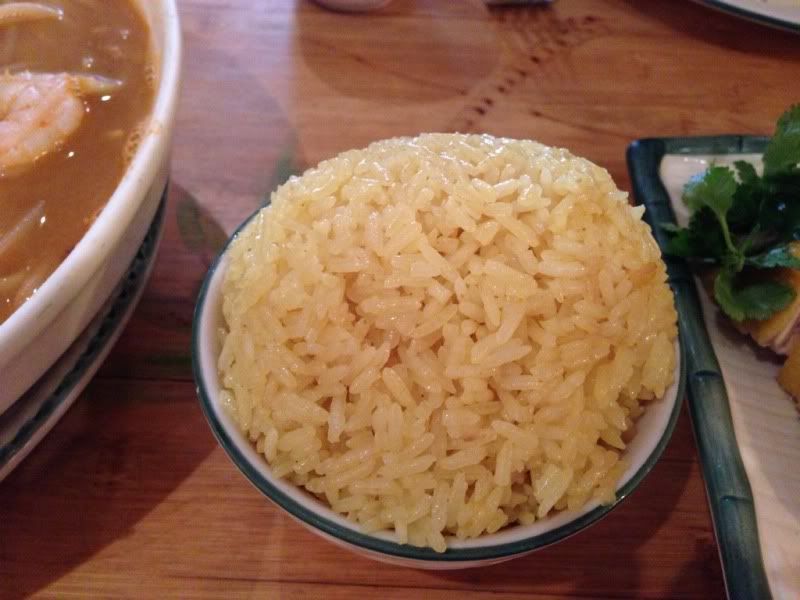 The rice was not nearly as good as in Singapore and Malaysia. It was better
than what I had tried making, but we still haven't found anything to stand up
to the real thing.
I got a Laksa. I didn't like it as much as I thought and it had me wondering if
I liked laksas at all, but thinking back, I did really enjoy them in Malaysia. This
one was much sweeter than what we had over seas.
My Dad has been talking about this Coffee Crunch cake for a while. While my
Mom and I were walking around Chinatown looking for a tea set, we passed the
Eastern Bakery where he used to get it.. My Mom picked up the smallest sized one.
This is a small! I have to say, I don't like sweets much, but this cake is really good.