For New Years Eve I was up early to got to Costco for my meat and last minute veggies. Luckily, I had already prepped my mashed potatoes, salmon spread, and stuffed mushrooms so NYE day wasn't as hectic as Christmas. We were also planning to have way fewer people over for dinner. We spent most of our day cleaning and getting food ready. Nick went to pick up
Chick Fil A
for us since I'd only had it once before many years ago and just thought it was so-so. With all this negative political hype recently it had me curious if the sandwiches were any better than the last time. It was about as lack luster as it was all those years ago. Nothing special, but convenient. I don't care much about the politics so if Nick is willing to go out and pick up, he can get whatever he wants. I still prefer KFC though.
By 3:30pm we were done with everything that we needed to do and actually had time to sit around and watch tv. It wasn't until I realized that I told people to come at 5:30pm instead of 6:00pm that I started running around like a headless chicken trying to get ready.
Menu:
Brie en croute
Smoked Salmon spread
Salami and Burrata plate
Herb-Dijon Lamb rack
Garlic green beans
Garlic mashed potatoes
Kale with bacon
Molten Chocolate Cake
Champagne, champagne, and more champagne
We had a casualty during prep. The night before after I had
just finished stuffing the muhrooms, I washed my cutting
board and stood it up to dry. A few minutes later it fell off
the counter and broke a foot off. It's a good thing Nick has
the exact same board for me to replace it with.
I can never just follow a recipe. I've never made stuffed
mushrooms before, but didn't like any of the recipes that I
found so I made stuffing off the cuff.
I chose to bake them on my cookie cooking rack so that if the mushrooms
released liquid they wouldn't sit in them. This method worked out well.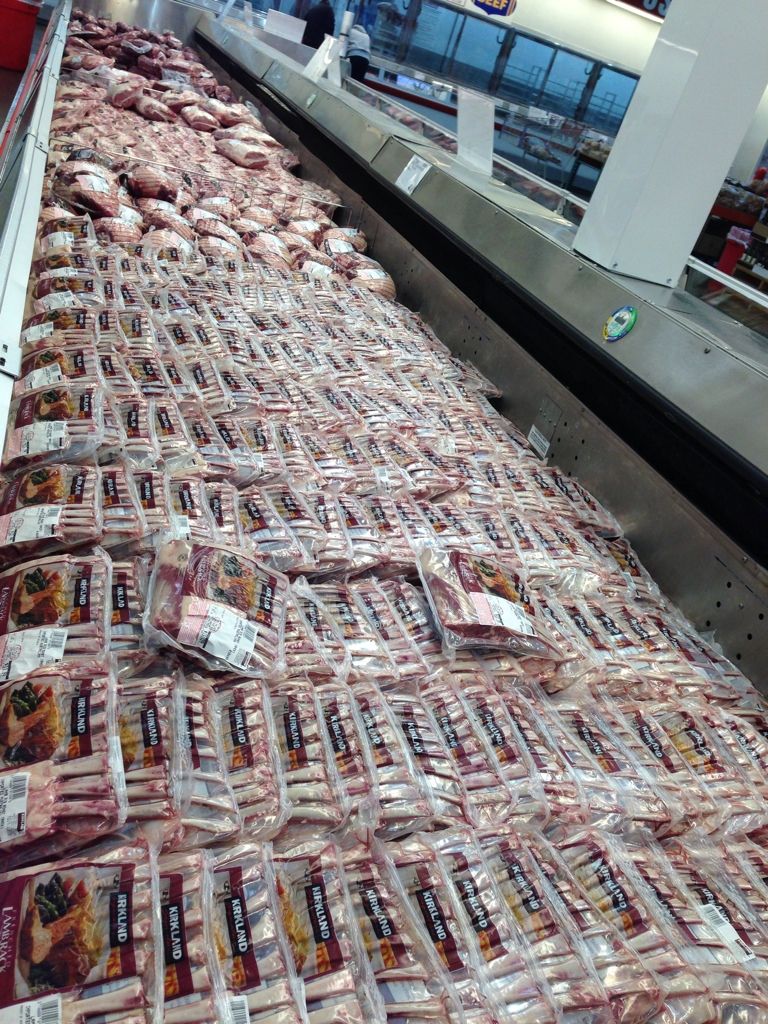 I went to Costco at 9am and it was empty. In preparation
for the holiday, they had rows and rows of meat. Usually
by the time I get there the neat stacks are a mess. I've never
seen such quantity in neat rows like this.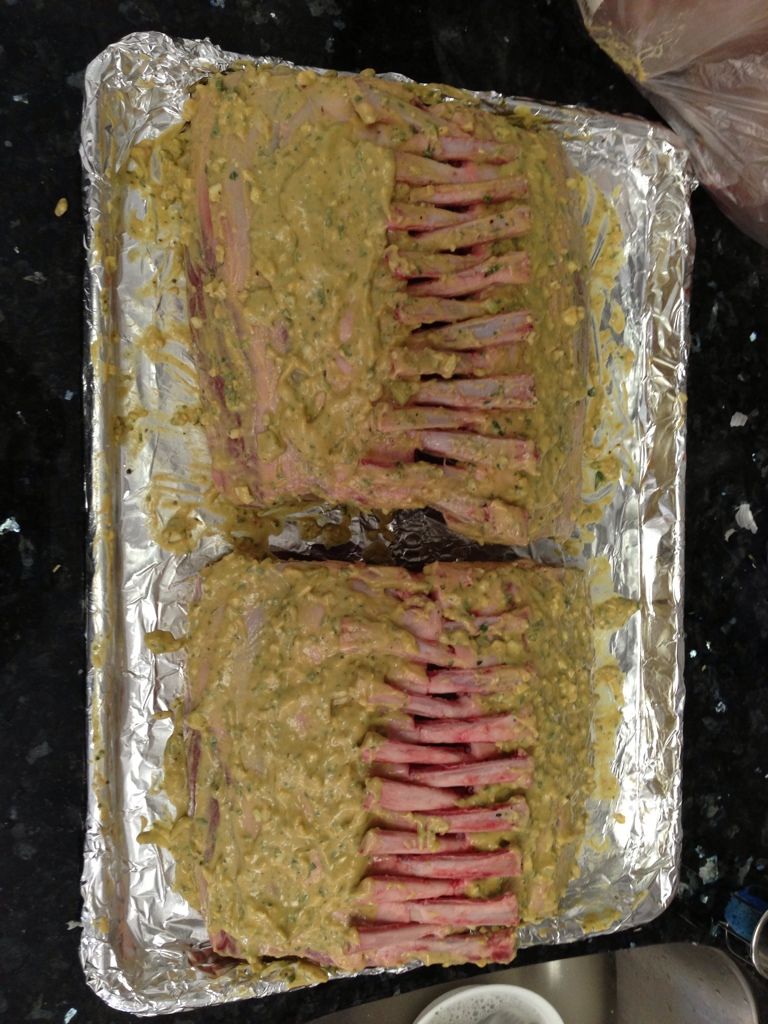 Again, like the mushrooms I didn't see a recipe that I liked
so I made one up using different components from all of the
recipes.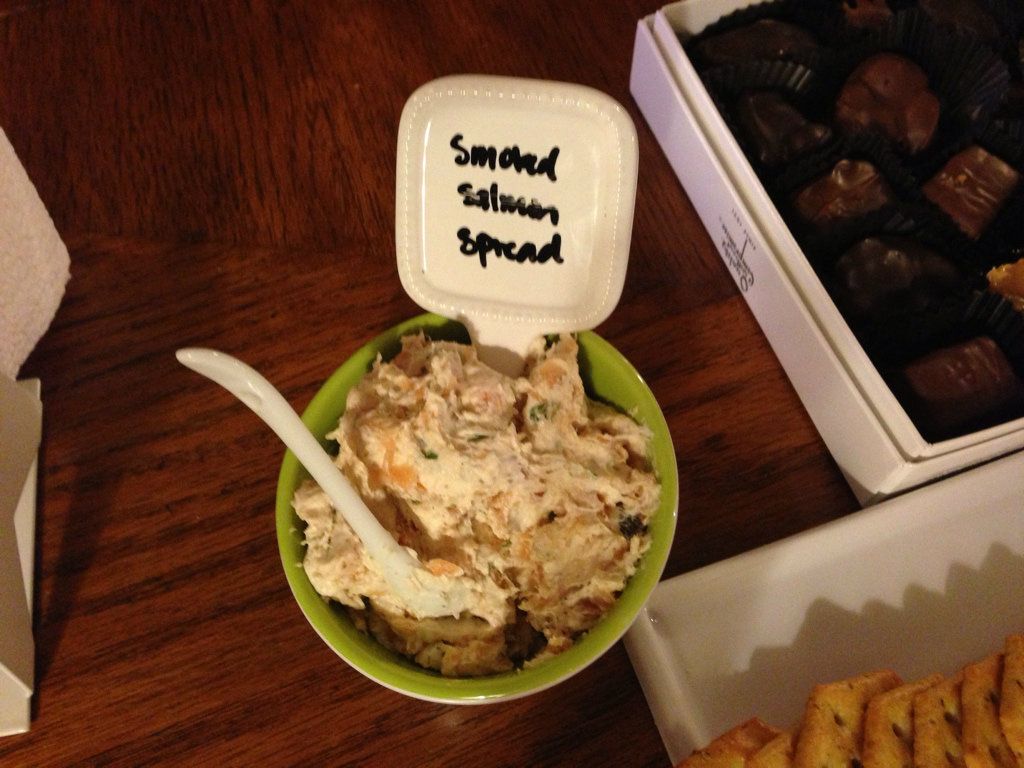 I piled on a combination of dried cranberries and chopped pecans in a raspberry
chipotle jam before putting it on top of the round of brie before wrapping up
the pastry.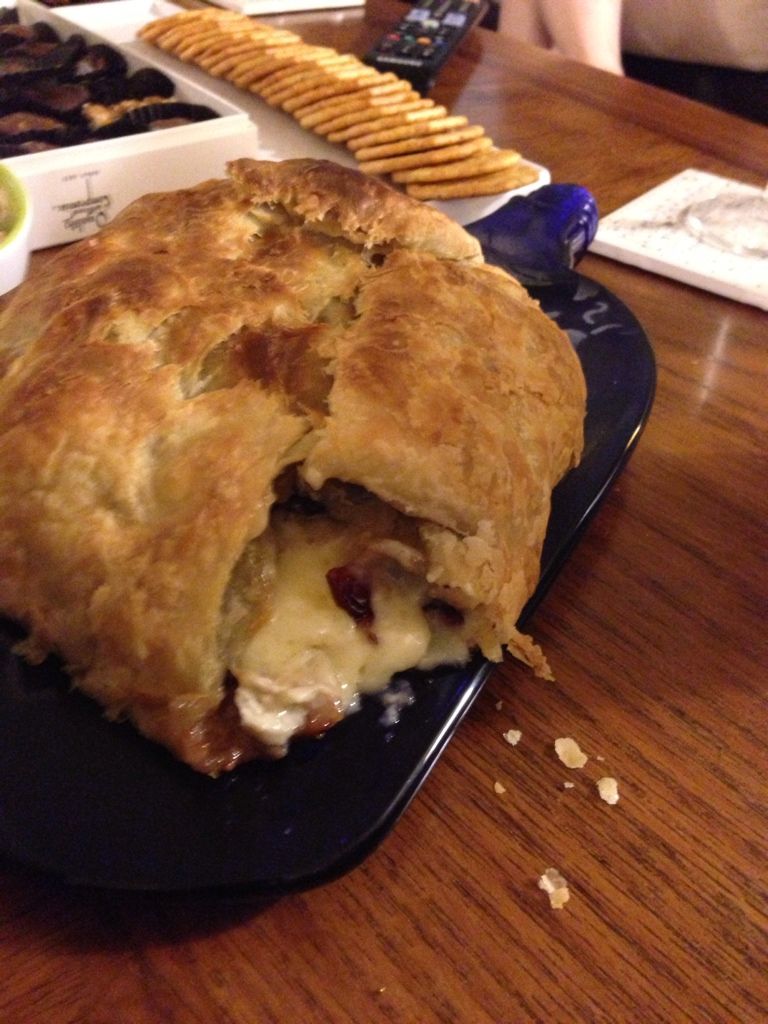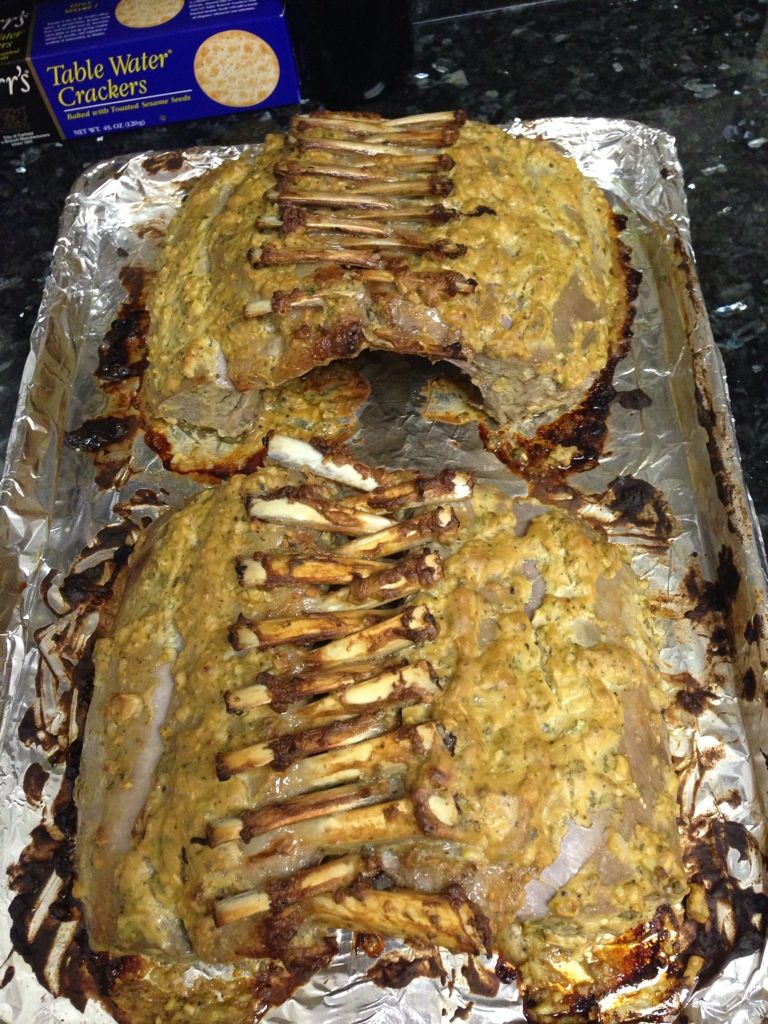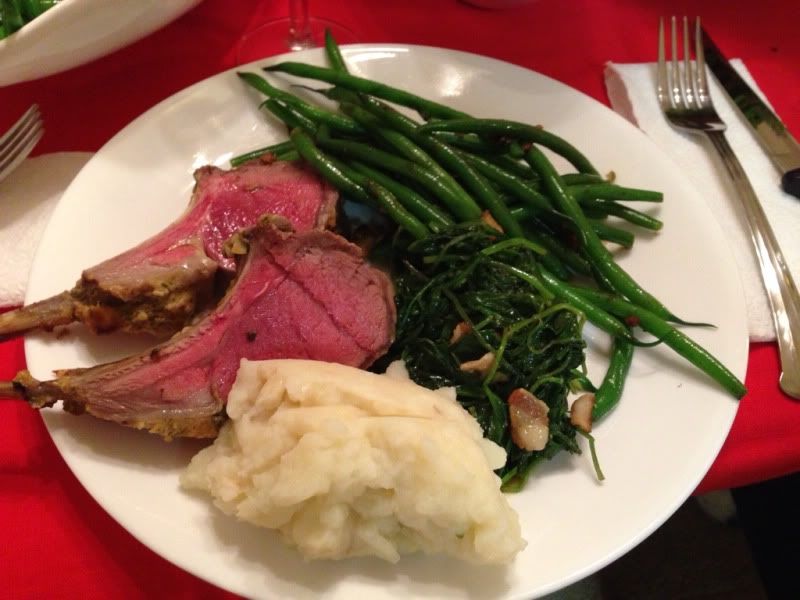 My molten chocolate cake came out a little more firm than
I would have liked, but the good thing about it is that it turned into
just chocolate cake. I also made fresh whipped cream because
I think it tastes better.
Stuffed Mushrooms
1 large container baby portobella mushrooms
1 sweet Italian chicken sausage
2 tbsp fresh tarragon, minced
2 tbsp fresh thyme, minced
1 head garlic, roasted
Salt and Pepper to taste
Directions:
Preheat oven to 375 degrees. Clean mushrooms with a damp towel. Gently pull out the stems of the mushrooms, set mushroom caps aside. Cut off the harden ends and then mince mushroom stems. Add tarragon, thyme roasted garlic head, salt and pepper; mix. Add chicken sausage and mix. Using a teaspoon, gently stuff mushrooms. Bake for 50 minutes.
Lamb marinade
1 c dijon mustard
3 tsp fresh rosemary, minced
3 tsp fresh thyme, chopped
1 head garlic, minced
2 tbsp salt
2 tbsp pepper
Mix all ingredients together. Let marinade on lamb for 1-2 hours.