I was pretty pleased with myself for going on a run. Since the 15k in December I've been a little bit lazy with the running. I haven't had any free weekends so I haven't signed up for any more road races, which usually motivate me to stay in shape. Emmy and I have only been going down to the hotel/gym by our place and back, which is about 1.75 miles. Last night Emmy was having a slumber party at my Mom's place so I wasn't sure if I wanted to go for a run, but my coworker is doing Boot Camp and inspired me to go running without Emmy. I was able to run on the trail where there are usually a lot of bikers. (Emmy likes to chase them.) I was able to run exactly four miles, according to Google Maps, in 40 minutes. Toward the end I was practically sprinting because it was getting very dark and there are no lights on the trail. I realized that Emmy really makes me feel safer running in the dark. Even if I know that she's a woosy pants dog,
other
people don't know that and I'm sure if it came down to it, she would protect me.
When I got home I had in mind to make a chow mein since that is what I usually get when we order Chinese takeout. I want to perfect it so that we don't have the urge to order out so much. The only thing I've noticed with a lot of Chinese dishes is that there is a lot of prep work. It is just so much easier to order out. Still, I think my chow mein is much healthier and much more cost effective. For a huge wok full, it was only around $15 for shrimp chow mein. Nick and I agreed that the noodles should be the last thing to go in the pot since they were already par-cooked. I added them after I sauteed my vegetables, but they began to stick to the bottom of the pan when I was adding the shrimp. I also think next time I will stir fry the bean sprouts in soy sauce prior to integrating into the noodles. I also threw in our left over gai lan from the night before.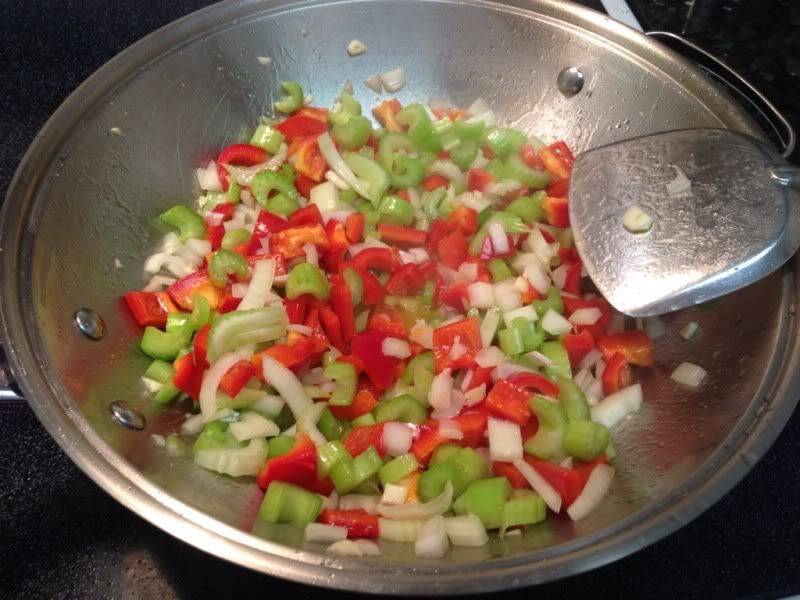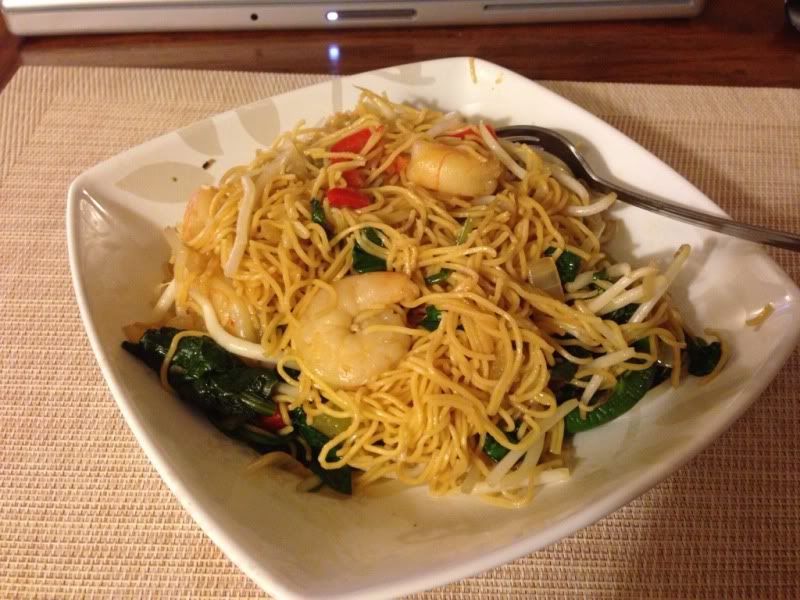 Shrimp Chow Mein
1 package egg noodles
1 lb shrimp, deshelled and deveined
1/2 large onion, diced
2 red bell peppers, diced
5 cloves garlic, minced
5 celery stalks, sliced
2 c baby spinach
1 bag bean sprouts
3 tbsp oyster sauce
1/2 c soy sauce
Directions:
Follow directions on the noodle package. On high heat, saute onion, bell pepper, garlic, and celery. Add bean sprouts, saute for 1-2 minutes. Add shrimp, saute for 3-4 minutes or until slightly pink. Add noodles, soy sauce, oyster sauce and spinach. Stir fry until well incorporated.