For dinner I was thinking about making another Chinese dish, but opted to save that since it's quick to make and I'm starting a Zumba class this week and I plan to make dinner before going. Originally, I was going to stop by my local Papa Murphy's for some pizza dough, but since I didn't decide on pizza until last minute I had to look up a
no yeast pizza dough
. I used wheat flour to make it a little bit healthier. I found that my pizza crust flattening skills need some work, but the pizzas turned out pretty well.
For the toppings, I browned some sweet chicken sausage and opened a roasted pepper and feta spread that a friend gave me for Christmas. I mixed the spread with some pesto sauce that I had in the fridge before piling on shredded mozzerella, spinach, and the chicken sausage. I popped them in the oven at 400 degrees for 20 minutes and they were ready to go.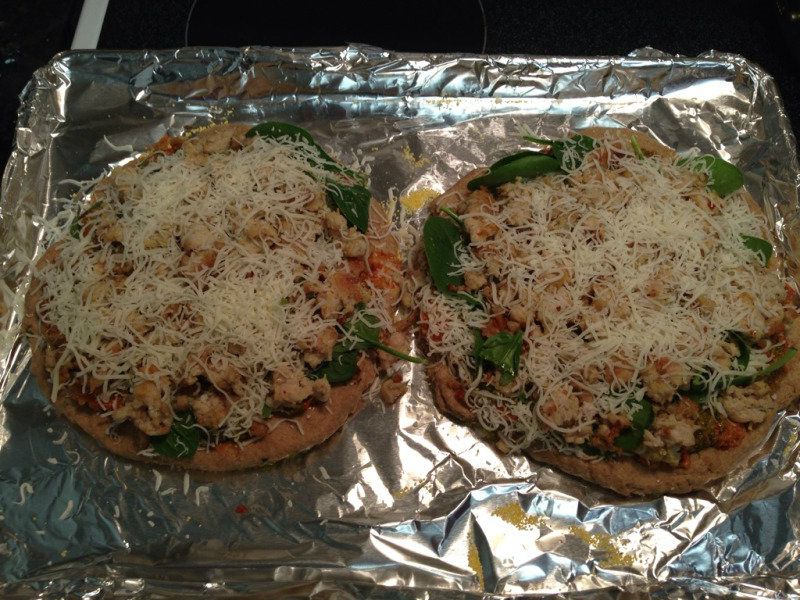 I piled on the chicken and a little more cheese to bond it all together. I tried
to push it down into the crust so that it wouldn't all fall off when we ate it.
That tactic worked out pretty well.
The crust was pretty thick, but with all the toppings it was
pretty tasty. If there isn't any sauce on it thought, it's rather
bland. If I had more room on my pan I would have spread
the crust out more. The recipe for the crust I followed
probably would have made two full sized pizzas if they dough
was spread out thinly.