About a month ago I saw on
Nouveau Cheap's
blog that Target was giving away free beauty bags with samples and coupons. I find myself checking her blog everyday now just to see if there are any good give aways like this. So far I've benefited from a free Essie nail polish, free samples of the new
Maybelline Fit Me
foundation (they sent a sample of every single color!), a sample of the new
Cover Girl Natureluxe
foundation, and now this beauty bag. It was really nice getting the Fit Me foundation samples because I have no idea how to tell what color I should get. As it turns out, I just don't like foundation or even tinted moisturizer for that matter. I always think people look so nice when they wear it, but when I put it on myself it creeps me out to not see the freckles or the X scar that I have on my cheek. Not to mention that it clogs my pores and makes me break out. I'm glad that I was able to get these samples so that I could test them all out before spending $13.00 on a whole bottle.
Anyway, Linda and I promptly signed up for the beauty bags and patiently waited for them to arrive. We had actually forgotten about them until I saw on Nouveau Cheap's blog that she had received hers nd so had a few of her readers. Where were ours? After a couple of weeks we figured that we had signed up too late and they had run out of their supply. To our surprise though, we both got out beauty bags this week! Better late than never!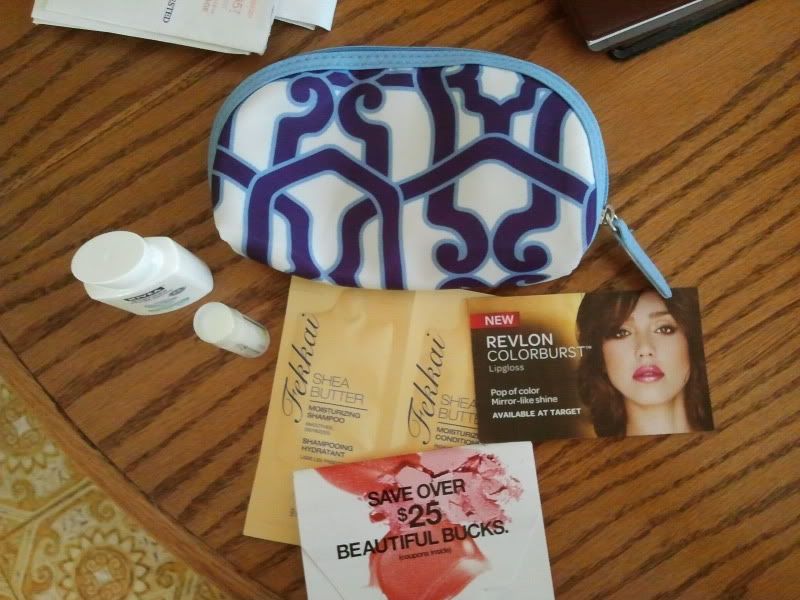 Here are the contents:
Neutrogena Naturals Lip Balm
Nivea Express Hydration sample
Revlon Colorburst sample in Hot Pink
Fekkai Shea Butter Shampoo and Conditioner sample
Sonia Kashuk makeup bag
Beauty product coupon booklet
Not bad for being completely free. I tore out quite a few of the coupons in the booklet, which will undoubtedly cause me to spend more just because I want to be able to use my coupons. They don't expire until the end of July so hopefully I will space out my purchases of things that I need or think I need. I put the sample hand lotion in my purse because it's the perfect size, but haven't tried it out yet. I like the chapstick, but it doesn't have SPF in it. I can't smell much of a scent, but it glides on well and feels pretty moisturizing. I'm going to put the Hot Pink sample in my purse for one of those days that I'm out and about and then end up having to go somewhere nice last minute and need a pick-me-up. Linda tried out hers and she said that it was too bright for her taste. It will probably be to bright for me too, but I will keep that in mind and use it sparingly. As always, the shampoo and conditioner samples will go into my travel bag. I have quite a stash of sample packets of lotions and whatnot in there so that I don't have to buy the $1.00 travel sizes or bring whole bottles.
I was disappointed by the makeup bag. It looks pretty big when you're looking at it, but it doesn't fit much. I was hoping to use it as my toiletry bag in my purse since the super cute Coach one that Auntie Mary gave me for Christmas is bursting at the seams. This bag is deceiving. I could barely fit in the stuff that I have in the much smaller Coach coin purse and a few extra feminine products. There was no way that all my little hand sanitizer gel, sanitizing wipes, tide pen, eye drops etc. were going to fit in there too. Bummer. So now it's sitting on my desk waiting for me to figure out a good use for it. I'm sure I'll figure it out eventually. Nevertheless, I can't be too hard on the tiny bag since it was free. I just wished it was more useful, but that's just me. No wonder my purse is so heavy.