If you've been following my blog for a while you'll remember how terribly I messed up my first try at
beer can chicken
. I was determined to get it right this time. I made sure to sit out there for the whole two hours that it was cooking. I did get up for a while to weed my little vegetable patch in preparation for planting, but would go and check on the chicken every few minutes. The directions I was following on
Epicurious.com
said to leave the chicken on for about two hours until the meat is fall off the bone tender. I used my own blend of spice rub instead of the Memphis rub they give a recipe for. Well it was falling off the bone when my dad was carving it, but it was dry. Bleh. An hour and a half would have been fine. The flavor was good and I'm pleased that it didn't resemble a large lump of coal, but next time I won't have it on so long.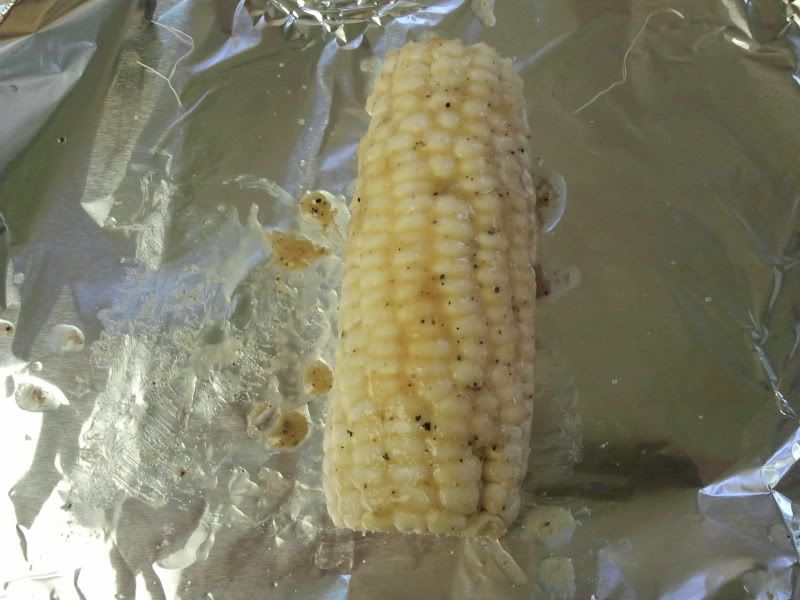 Another experiment
I've been trying more and more to grill vegetables. I made this butter mixture to spread on the corn before wrapping them tightly with aluminum foil. I didn't take a picture of the final product, but it got a little brown. I didn't know that it could get brown in foil! I am going to try the same recipe again tonight because we have three more ears and Christopher will be out with friends. The flavor was really good, but the brown kernels weren't so hot. They weren't completely burned, but they were on their way and definitely over cooked, which I also didn't know could happen with corn. Briana liked it so much she ate Christopher's so I guess the recipe is a keeper.
Garlic-butter Corn
5 ears of corn
4 tbsp butter, melted
2 tbsp garlic powder
1 1/4 tsp kosher salt
1 tsp black pepper
Splash of Worcestershire sauce
Directions:
Mix ingredients into melted butter and then liberally spread over ears of corn. Wrap tightly in foil and grill over medium heat for 20 minutes, rotating frequently.