As I referenced in my
Consentino Wine at Grocery Outlet
post, Bonnie noticed that they sold ELF makeup there as well. The cart that I was pushing was really heavy from the boxes of wine I was trying to maneuver. As I was aiming the cart into the checkout line Bonnie says, "They sell ELF here too." Someone had put a makeup kit by the chips. Score! My immediate response was, "Really? Reverse!" and I backed the heavy cart out. I got this kit for only $4.99! I believe that they sell these kits at most Targets, but I haven't seen any in our local store yet. I couldn't believe how many products you get in one little kit. I gave the eyeliner to my mom since I have so many already, but I think I will try their mascara next. So far their primer seems pretty good, but it feels thinner than the
Urban Decay Primer Potion
. I don't know if that is good or bad, but I'm hoping good as I don't want to fork out $18.00 every time I need to replace my primer.
While we were there we also saw a few L'oreal Hip duos for only $2.00! Usually these are $7.00-10.00 in drugstores. I picked up Darkwave.
Swatches compliments of Nouveaucheap.blogspot.com
If you're looking for great reviews on drugstore brand items, she's the gal to read.
She also provides info on weekly beauty sales and promotions.
I read her almost everyday.
I also found the Clean and Clear brand soothing eye makeup remover for only $4.00 when it is usually $8.99. I've tried this out a few times now and it seems to get the job done. It claims to not leave an oily residue and it is less oily than the
Boots
brand, but I can still feel the oily texture and have to wipe my face down with a baby wipe after using it. I wouldn't say that I'm in love with this makeup remover, but it doesn't sting my eyes and is considerably less greasy feeling than the
Boots
. I find that I do reach for this more than the
Boots
one now and will probably only use the
Boots
as a backup. I still would like to find a non-greasy remover (if that even exists), but if I can't, then I would definitely repurchase this.
Okay onto my review. I haven't actually used any of eyeshadows on my eyes yet, so this is just my initial reaction to the products. Note that I am not necessarily comparing the colors from each collection, but the actual product itself.
The contenders: L'oreal Hip in Darkwave vs. ELF Day to Night Collection shadows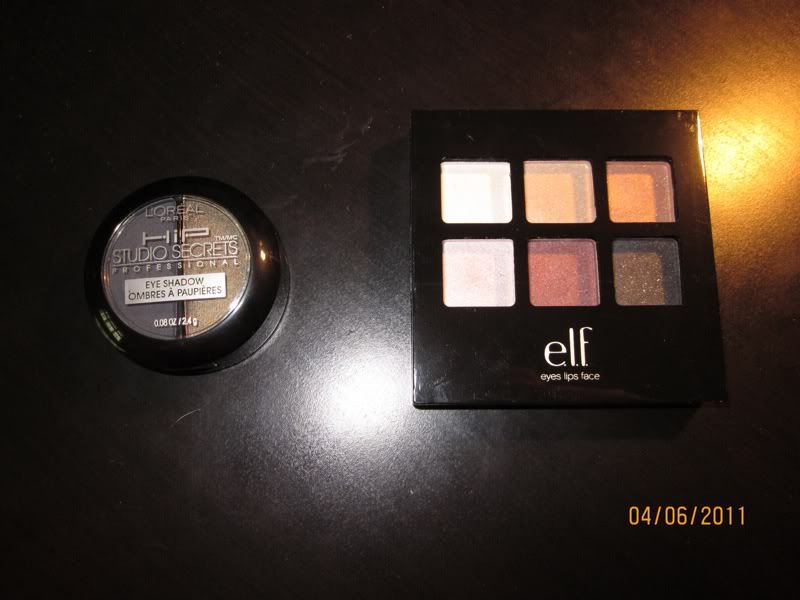 To start, I want to talk about the ELF palette. I like this palette because it is easy to throw in your purse to do touch ups or even change your whole look throughout the day. This is presumably why it is called Day to Night. If you're on the job and start off with a neutral look, which is very easy to achieve with this palette, you can easily go to the bathroom to spruce up your eyes to go out for the evening with the darker colors. What I like about this set is that it has all shimmery colors. What I don't like about this set is that it has all shimmer colors. Hahah. My eyes are always attracted to the shimmering shadows, but my brain knows that you shouldn't wear shimmers all the time. This palette could have gone with a nice matte shade, perhaps in the sandy color in the top row. The dark coal and lavender colors have a considerable amount of silver glitter. When I swatch them on my hands the sparkle is very visible. It is less noticeable in the lavender, but it really shows up in the coal. The other four colors, vanilla, sand, bronze, and maroon, are all shimmers. I made those names up by the way so that they are easy to reference.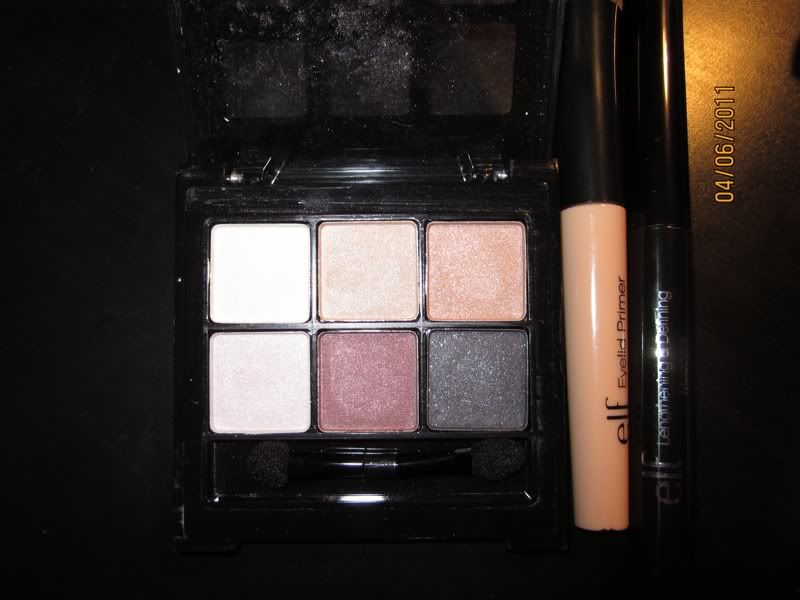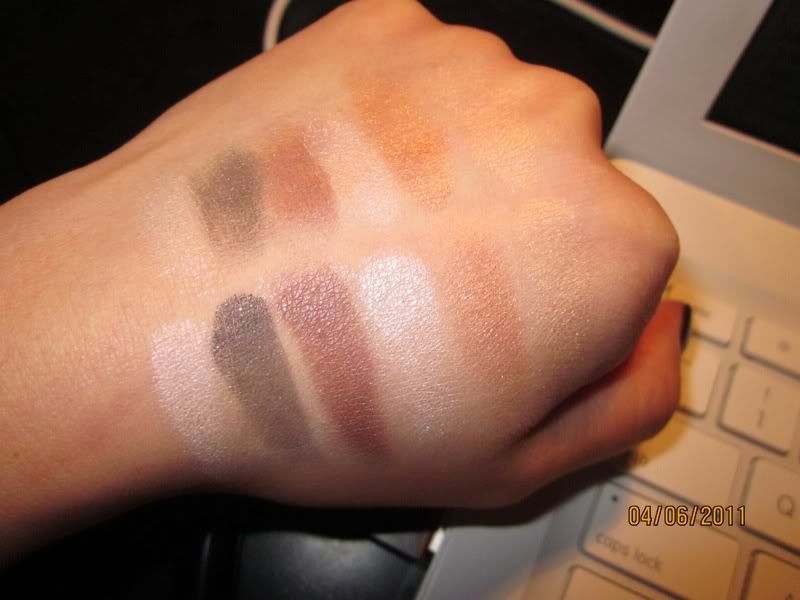 Top: No Primer
Bottom: Primer
From left: Vanilla, Coal, Maroon, Lavender, Bronze, Sand
Even without the primer, each shadow has a pretty considerable color pay off. Yes, you can get better texture and density with a Mac or Urban Decay shadow, but lets remember the price frame here. This whole set was only $5.00. I mean, check out how boldly that coal and maroon come out. I personally prefer the lighter shades and would use the vanilla as a highlight for the bronze and sand colors. I think the maroon and coal are very pretty, but I tend to not wear such dark colors and if I do I only put on a tiny dab.
Okay, I'm glad that I only paid $2.00 for this. I was really excited for the price cut, but I'm really not impressed by the colors at all. I have quite a few Hip duos in my collection, but tend not to wear them. It was the price that sold me on this. I was disappointed by the pigmentation of this shadow. I think it is easily buildable, but that takes a lot of product and time, which I don't usually have if I'm getting ready to go out. I like to be able to dab my brush into the color and have it go on my eyelid without having to keep applying more and more. On the plus side, the navy color is matte. Well pretty darn close to matte. If you stare really hard at it you can see a minuscule amount of shimmer. I don't find either of these color unique, but I didn't think the ELF colors were that much so either. The texture of this shadow is much firmer than the ELF. I don't particularly enjoy that as it makes it a little more difficult to get the product on my brush and/or finger. I feel like I have to make big swiping movements to pick up product rather than a simple tap.
Not only did I not enjoy the pigmentation and firmness of Darkwave, there is no mirror! In the old Hip duos there was a little mirror in the bottom of the packaging where the sponge-tip applicator was stored. In Darkwave there isn't one at all. Granted, I don't usually use the little mirrors in my makeup much, but it is nice to know you have it if you need it. The mirror in the ELF palette isn't the greatest, but it at least gets points for being there.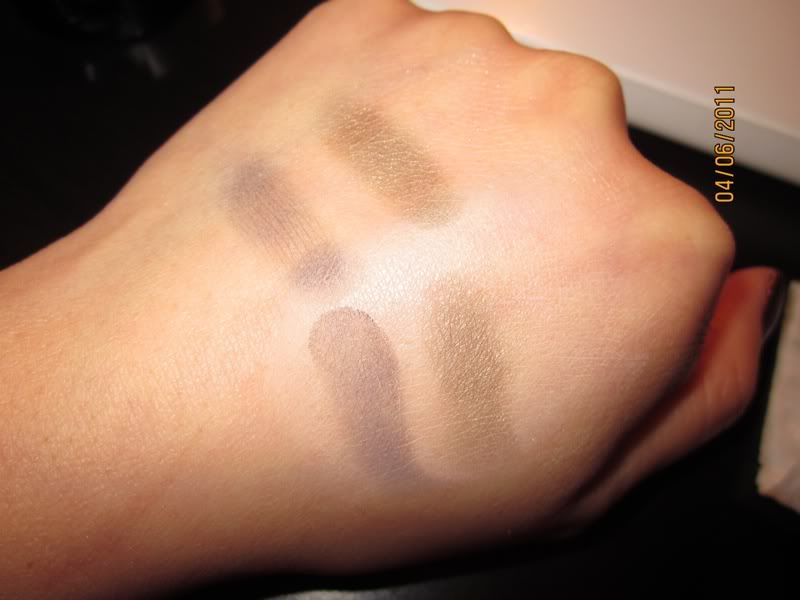 Top: No primer
Bottom: Primer
From left: Navy, Olive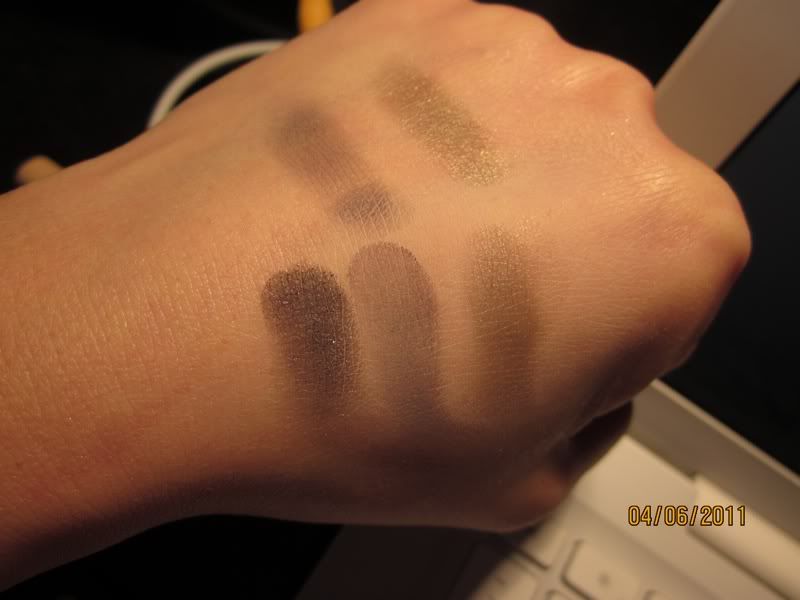 I applied the coal color from the ELF palette next to the navy to show how much darker the ELF shadows appear.
The bottom line and main reason for this review is to show that the more expensive brands are not always the best brands. Needless to say, I much prefer the ELF shadows over the Hip. Unless there are Hip colors that I haven't seen and the price is right, I don't see myself purchasing anymore Hip duos. (I still really like their loose pigments.) To date I own eight Hip duos, and rarely use them. I know for a fact that I have used most of my ELF quads that I recently purchased and I've had them less than two months. The ELF shadow pigmentation, firmness, versatility, packaging, and price all get higher marks in my book than the Hip.
So next time you're in the market for some budget friendly shadows, consider ELF as a suitable prospect.