On Wednesday Bonnie and I went to go get our nails done, but failed. I've been wanting to get them done professionally for a while so that they could clean up the cuticles and skin around my nails. I knew that Bonnie gets hers done every once in a while so we decided to go together. Since I always do my nails myself, I didn't know where I wanted to go so she brought me to her salon in Danville. Unfortunately for us, I get off of work at 5pm and our appointment was at 5:30. After sitting in 45 minutes worth of traffic, we missed out appointment. The evening wasn't a complete bust though. We headed back to Pleasant Hill for dinner at
Pasta Pomodoro
before our 7:35pm showing of Jane Eyre. Luckily for us on Wednesday evenings they have a half off bottle of wine special. We ordered the shrimp scampi special and a half off bottle of Prosecco before walking over to the movie theater. It turned out to be a very pleasant evening despite our lack of manicures. The best part is that we were able to reschedule our manis and pedis for Saturday so that we could have girl night all over again! I grilled up some portobello mushroom burgers and skewered some shrimp. I didn't take pictures since it's a pretty standard meal for us and I've posted pictures before.
I was very interested in trying the
Shellac
after Bonnie said that she really likes it. It stays on for about two weeks and dries instantly. So far I'm enjoying it, but since my nails grow so quickly they're already coming away from the cuticle. I have no chips or knicks even though I've been cooking and cleaning like normal. It was more expensive than a usual mani, but if it stays on for a long time it's worth it. I will still be doing my nails myself because I can't afford to have them done all of the time, but it is nice to sit there and let them do it for me. Hhehe. The color that I picked for the Shellac is called Fedora.
No Flash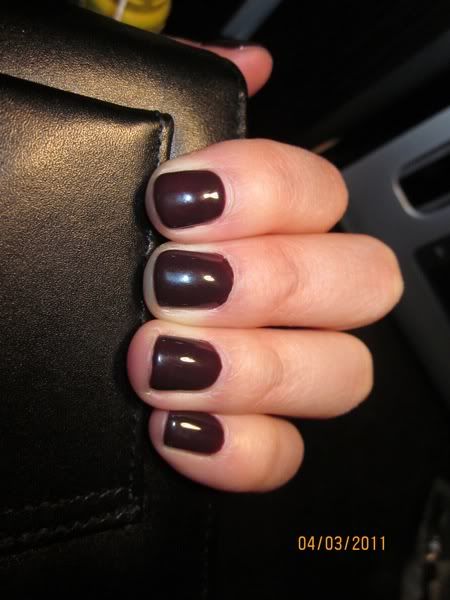 Flash
Okay, so there is no good way to photograph feet, but since I actually got them done I figured I'd try to take some pictures. I can't remember which color I got, but from the website I think I'm wearing OPI's Catch Me In Your Net. I picked this color because it reminds me of the
Little Mermaid
. I bought an Essie color like this recently so I will probably start wearing it on my nails now that it's nicer weather.