As I'm sure you all know by now, any little holiday or event (even if it's a silly Hallmark holiday) Nick and I try to make the most of it. For example,
[tangent alert!]
in just a couple of weekends we are going to be going to Monterey on a family excursion. Nick and I have plans to go to the beach to play with Emmy and have oysters in Carmel while everyone else is at the
Monterey Bay Aquarium
. That way we won't feel rushed because Emmy is sitting in the car waiting for us. We also were just there in October during our anniversary stay and had been to the Seattle Aquarium in August, so we figured we could skip it this time and play with Emmy instead. Plus, no one in our family really likes oysters so they wouldn't want to go to the oyster bar with us anyway. I have also made us a reservation at the
Monterey Fish House
, which I'm very excited about. It's a little pricier than what my family is used to, but they agreed to splurge since we haven't been on a family outing in a while.
Back to the task at hand. As mentioned in a
previous post
, for Valentine's this year Nick booked a room at the
Argonaut
on Fisherman's Wharf and I got us a reservation at
La Folie
. As promised, I did take pictures of the room we stayed in before we messed it all up with our stuff. I am also going to make a separate post for La Folie since we remembered to take pictures of most of the dishes that were brought out.
The whole hotel is very patriotic. I didn't take a picture, but against the brick wall with the window is a large metal beam on the floor like what you would see at the edge of a ship. I thought the detailing was great, but had to be sure not to stub my toes when looking out the window.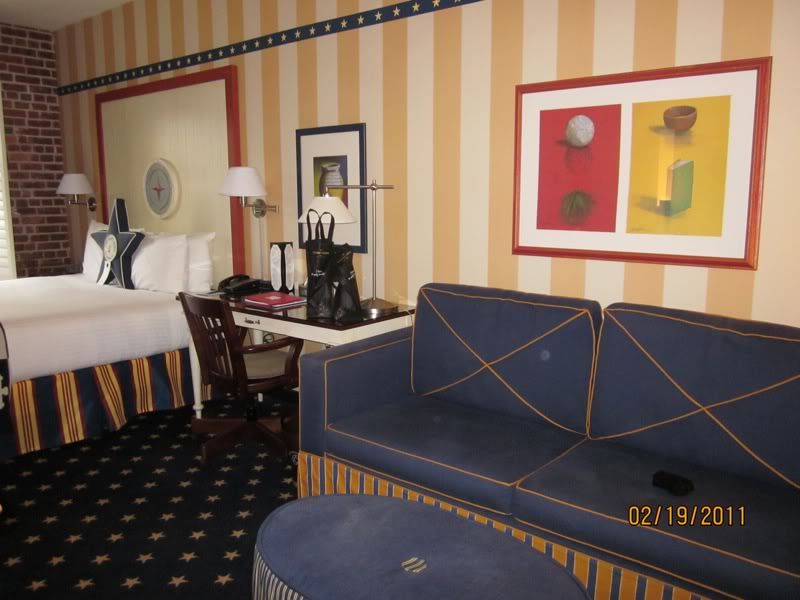 This sofa was surprisingly comfy and I liked how the room was set up like a little house. There is a tv directly in front of the sofa, though we turned the tv because we were being lazy and wanted to watch it from the bed.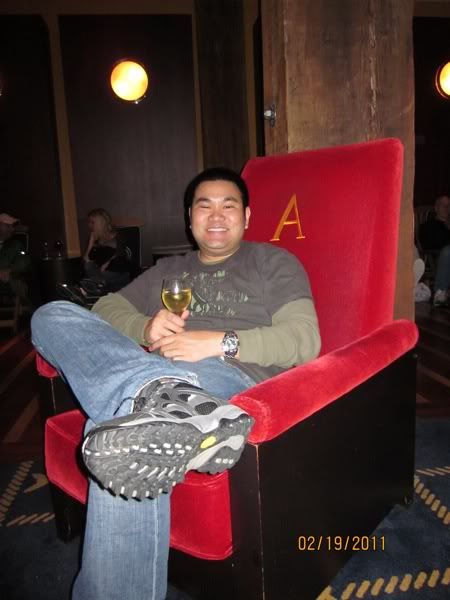 Between 5:00-6:00pm they have complimentary wine tasting in the lobby. The wine wasn't that great, but hey, it was free!
The view from our room after it stopped raining.
We started out for San Francisco around 11am so that we could make it there for lunch. I was so miserable when we were walking around looking for
Taco's Sandwiches
because of the rain, but by the time we parked and got ourselves into the hotel I was feeling less grumpy, but very food coma-y. The bed looked mighty comfy when we walked in, but Nick had asked me to take the champagne out of his bag. I took them out, put them on the desk and started to ask him if we should get some ice. When I turned around he had his phone up taking a video of me.
Me: What are you doing?
Nick: *giggle giggle*
Me: What?
Nick: Look in the bag.
Me: Is that Christmas wrapping?
Nick: *giggle giggle*
He got me a Kindle! A while back he had lead on that he was going to get me one, but then I thought he decided against it because he didn't say much about it afterwards and told me not to get one for myself until after I bought my phone. There it was all wrapped up in Christmas wrap and I didn't notice it. It was surprising because Nick never wraps presents, it being a waste of paper and all. I had been going back and forth on getting one for a while since I didn't think that he was going to get me one, but decided to take his advice and get my phone first. I'm glad I waited! Apparently everyone knew he was getting me a Kindle but me. He was able to keep a secret! I also wasn't sure if I wanted it because I know that this, and other similar products, are running book stores out of business. My dream of being a book publisher died a long time ago, but I still don't want to see the printed book disappear! Oh well, I have one now and love it!
I'm still learning how to use the Kindle, but I really enjoy it so far. Putting books on it was so easy I started to load more books than I could possibly handle at once on. I'm just a little confused as to how the numbering of pages and searching works. It doesn't have the normal page numbers like a book, but something called "Locations" instead. The problem with the Locations is that every time I "turn" the page the location changes, but it's not in sequential order. I will have to look into this more because I find it very confusing. Maybe I should read the manual.
All the books I so easily downloaded are public domain books. It's great because if I don't like what I'm reading I can just delete it without feeling guilty about it. Right now I'm reading
Love and Friendship
by Jane Austen, which is a series of letters. A big problem that I'm running into is that a lot of the books that I want to read I already have on my bookshelf but haven't read yet. I don't want to not use my new toy, but I also don't want to repurchase a book that I have already bought once. I will still continue to buy books even though I have the nifty Kindle. I just love the smell of books too much to stop buying them.