To start our weekend Nick and I hunted down this little place on 6th St. between Market and Mission called
Taco's Sandwiches
. Nick's sister had worked with Taco when he was the head chef at the Nordstrom's cafe so she told us to try out his place while we where having our weekend in the City. I was not very pleased that we had to tromp around in the pouring rain, but after we tried Taco's sandwiches, it was so worth it. I was even inspired to write my first ever review on Yelp.com. Sometimes I think I should start writing food porn. I have pasted my entry below under the pictures of our delicious sandwiches. Nick better watch out otherwise he's going to have a heffer on his hands.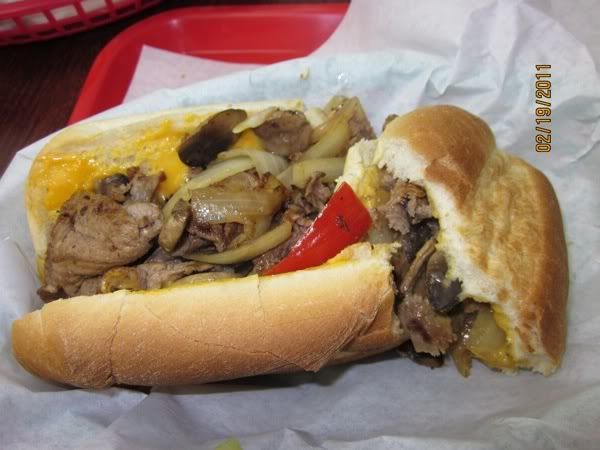 For some reason I can't get this to rotate the way I want it, but this is my Philly Cheese Steak.
Nick's Blackened Fish Po' Boy
Nom Nom
These are some of the best onion rings I have ever tasted. The onions didn't come flying out of the breading and they weren't saturated with oil.






I was recommended to Taco's by a friend. When my boyfriend and I ducked into this little place it was pouring outside. The hot sandwiches were what we needed for a pick-me-up.




I ordered the Philly Cheese Steak. The steak was nicely seasoned and sliced into bite sized pieces about an eighth of an inch thick. The meat was super tender and easy to eat without making a mess. The sautéed vegetables were caramelized well, but not limp and lifeless. The onions still had a little crunch to them while being sweetened up during the caramelization process. As for the cheese, it's all about the whiz. In my opinion, a good Philly Cheese Steak is about having good cheese whiz. It was so flavorful but didn't taste like the gross stuff from the can. The whiz had the nice pungent flavor of a mild cheddar without over powering the subtleties of the steak. I loved this sandwich and would order it over and over. Living in the East Bay, I would definitely pay BART fare to travel out just for this sandwich.




As for my boyfriend, he ordered the Blacked Fish Po' Boy. I'm not a big fan of fish, but when I sampled his sandwich, it was lovely. The crusty roll had two large breaded fish fillets nestled in some freshly chopped romaine lettuce and tomato. The fish was hot and flaky, as a well cooked piece of fish should be. Though the fish wasn't really "blackened" it had a nice punch of cajun seasoning.




For the price you pay, Taco's is a steal. The quality is as amazing as the taste and well worth hunting down amongst the multitudes of sandwich shops in the City.