Last night I headed out to my local
Sally Beauty Supply
store to look for some
Palladio
tinted lip balms that I have been seeing recently in makeup reviews. These are right up my alley since I don't like having to reapply lipstick all of the time, but like to have some color to my lips. As I'm sure you all know, I'm a chapstick addict so this isn't a far stretch for me. It's an all-in-one!
Sally has a beauty club that you can join for $5 a year. I usually don't sign up for clubs like this unless they are free, but it seemed worth it because you save $0.50+ on each item you purchase. You also get all their great sales like the buy one get one free (BOGO) Palladio products, which you wouldn't otherwise get if you don't have a club membership. To me, that is worth it since I plan to go back and get more chapsticks. I also got myself a Palladio lipstain because of the BOGO sale and I only wanted three of the chapstick colors. I have to say that even though I went for the tinted chapstick, the lipstain is amazing. I'm big fan of lipstains for the same reason as the tinted chapstick. They are quick and easy. I can apply it while I'm home and then just use my regular chapstick on top of it while I'm out. The lipstains eliminate having to frequently reapply lip color. I will be going back for more colors because the one I got is amazing. According to Palladio's website, there are seven lipstains and nine lip balms. I may just feel the need to own them all, especially with the sale going on.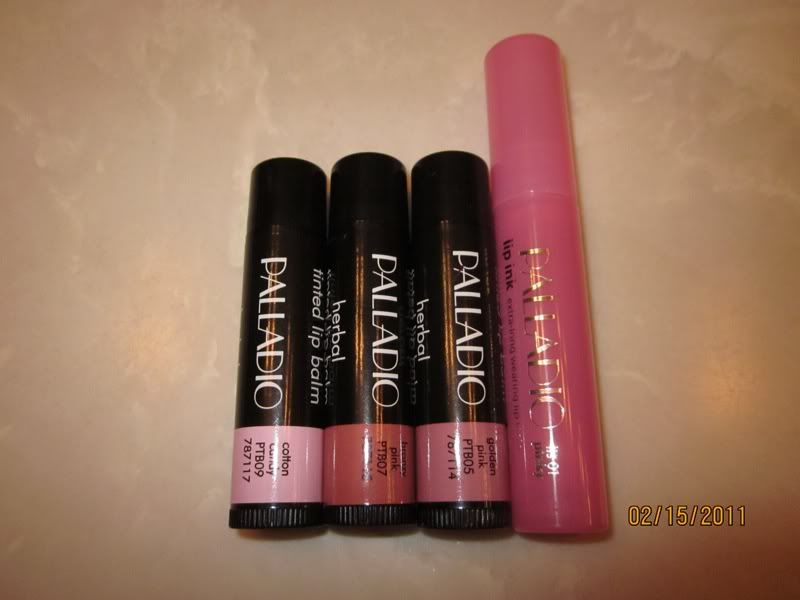 From left: Cotton Candy, Bronzy Pink, Golden Pink, and Pinky
From left: Cotton Candy, Bronzy Pink, Golden Pink, and Pinky
As a mini review since I haven't worn the Palladio lipstain extensively yet, I really enjoy it. The scent is pleasant and it doesn't taste as bitter as some other lipstains. It does have the standard dry feeling on your lips after the formula dries, but that can be cured with some chapstick over the top. The application goes on very evenly and only takes one swipe to get good coloration. I have washed my hands several times, applied lotion, and even went to sleep and I can still see the Pinky lipstain on the back of my hand. That's some staying power! Since this brand comes in many shades and is very affordable at $6 regularly you can get a lot of different ones and not feel guilty about how much you spent or if you lose one. Since Sally's was having a BOGO sale, I actually got this one for only $3.59. I will be going back to Sally's tomorrow to take advantage of this sale when I go to AT&T to upgrade my phone (they're in the same shopping center). The phone will have to be a different post. I've been waiting for this upgrade for two months. Anyway, I will post pictures of the shades I get and also a followup review after I have used this more.
I have tried the Cover Girl Outlast lipstain and really disliked it. The color didn't apply well, the tip felt dry, and it tasted awful. At the time I had purchased two and thankfully didn't tear open both packages in excitement because I returned one after trying this pinkish color I've posted above. Depending on the store you go to, the stains are $6-8 and so not worth it in my opinion. I have a friend who enjoys her stain and doesn't dislike the flavor at all so I did consider giving it another try, but now that I've found this Palladio stain I don't need to. Cover Girl has added a new sparkly container that caught my eye in the store, which almost fooled me into getting it again. They might have changed their formula, but I'm not willing to spend $6 to find out. On the plus side, there are a ton of colors to choose from and most are readily available at your local drugstores.
Mark's Kissink was my go-to stain. At the time I had started wearing stains, they were not as popular as they are now so it was difficult for me to find them. I still use this lipstain on occasion, but it gives my lip a more magenta-purple color that I don't care for that much. I much prefer a softer pink. There are a few downsides to this stain. The biggest one is that there are only two colors and since the Berry Bitten shade was a little dark for my tastes I didn't want to venture into their red color. This stain also sells for $7 plus shipping so it is at a disadvantage in my book compared to stains I can get in my local stores. It also seems to take a long time to absorb and stain. I feel like I have to apply more than one swipe before I can see a color difference on my lips. Even with these faults, I still prefer this over the Outlast because of the scent and flavor. I wouldn't say it's a great flavor, but it doesn't repulse me as Outlast does. Now that I know that I can get a lot of colors at Sally's, I will probably put this one in my purse as a backup in case I'm out and about and need a pick-me-up.
Now that I've completed my comparison, I have noticed that the Mark and Palladio packaging is the same! At this point I still think that there are different formulas in the containers, but will be keeping an eye out on how quickly the Palladio dries. For now, it is nice and moist, where the Mark felt dry when I first got it. I have also been on the prowl for NYC's lipstains, but the CVS I was at last night didn't have them. When I can get my grubby little fingers on them I will let you know what I think.