Now that Glee is back we're trying to get back into the swing of things with Tuesday night dinners. I decided to make an
Ossobucco
style pork tenderloin from
Slow Cooker: The Best Cookbook Ever
. Ossobucco traditionally is a piece of braised meat on a bone with a hole like beef or veal shank, so this recipe was basically just a braised pork tenderloin. I had gotten this book from Costco a while back because it had a ton of promising great recipes. What I didn't realize while looking at it in the store was that each one requires that you precook your ingredients before putting it in the slow cooker. This is not okay. If I'm going to use a slower cooker it is going to be for ease. I want to be able to dump in all my ingredients with as little prep work as possible. If I have to cook everything before I put it in the crock pot, I may as well just cook a full meal that is ready in an hour. As a result, I have used this book very infrequently. I decided last week, however, to give it another shot but to treat it as a regular cook book. Instead of using the crock pot, I used my dutch oven and let my pork cook for about three hours before serving. The outcome was actually very good and it was pretty easy once I got it all in the pot and let it do its thing.
There are actually four pork tenderloins nestled into this pot to braise.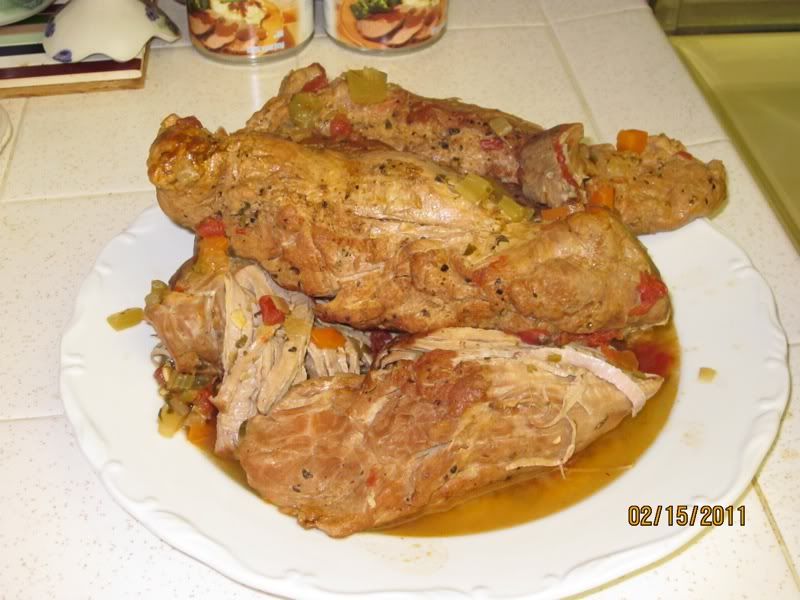 I took the pork out so that I could reduce the sauce. Each person got a nice little serving of melt-in-your-mouth chunks of pork.
We had some sugar snap peas in the fridge from Costco that we needed to use up so my mom cooked them with some minced garlic like we do with our green beans.