Nick said that
La Folie
was one of the best places that he had ever eaten at, which is saying a lot because his family eats at some pretty nice places. Score for me! We know how they earned their Michelin star now. This post will be mostly pictures and very little babbling. The photo quality isn't quiet there because we didn't want to use our flashes in the restaurant, but you can still see how pretty the food is. I tried to lighten the pictures so that you can actually see what is on our plates so hopefully I didn't totally ruin and overexpose the pictures. I'm terrible at editing photos.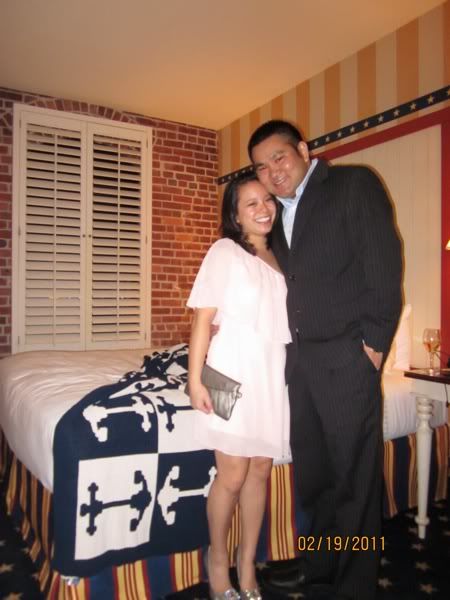 We wanted to take a picture in our fancy duds. The doorman asked us if we wanted him to take a picture, but it was too cold down there and I didn't want to take off my jacket. Hehe.
These are two salmon pops that were a "gift" from the chef since it was our first time dining a La Folie. Before this we also had little appetizers of lobster, which Nick didn't eat because he is allergic, and soft boiled eggs with cream and toast. Oh man, those eggs were something else. So delicious! Unfortunately we were so engrossed with out food that we forgot to take pictures of that.
We decided to live it up and each get a five-course meal. We did pretty well picture-wise, but I think there are a couple of courses missing. It was nice because you could interchange what you wanted to eat. If you didn't want something from the soup/salad course you could order a second item from the appetizer menu. This is what I did. I did take a picture of the menu, but the words are too small to read exactly what is in each dish. Luckily, I know how to do basic conversions on my computer and was able to change their pdf menu into a jpg so I can put it as a picture on this post.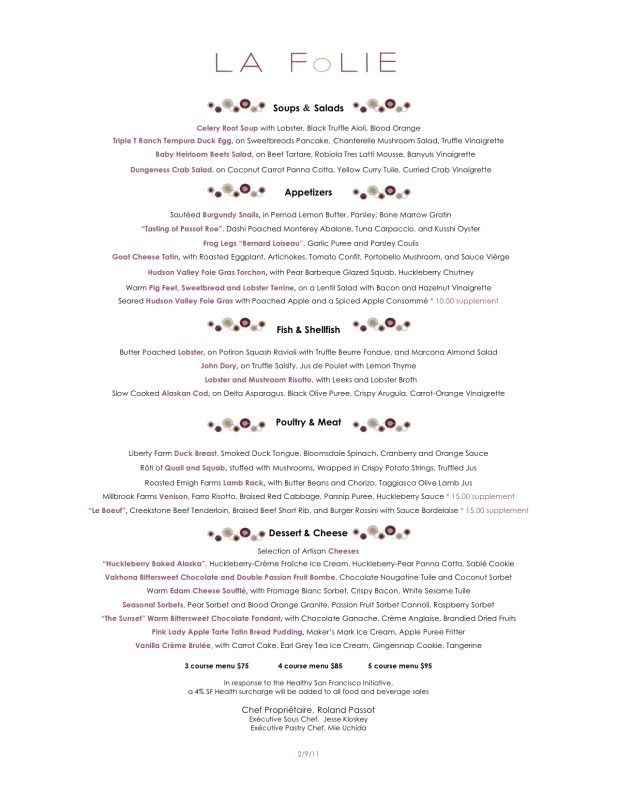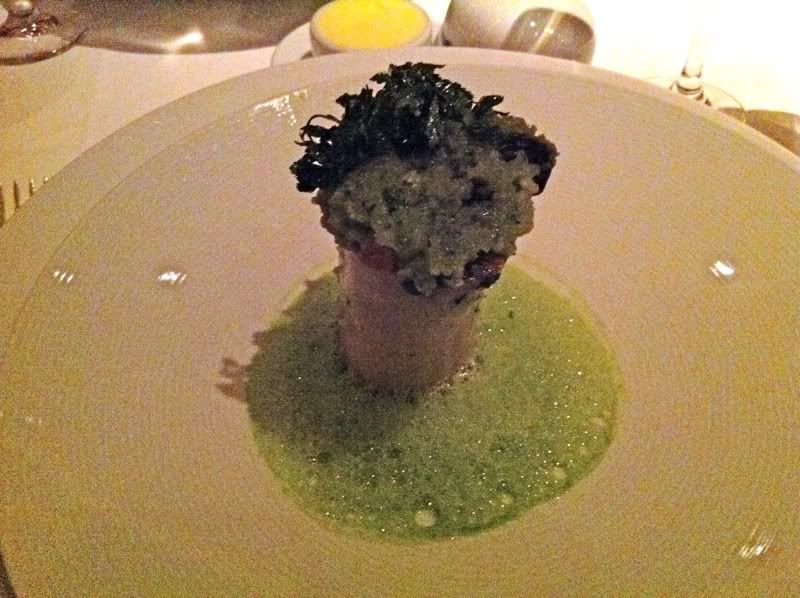 Nick: Burgundy Snails in bone marrow gratin
Nick: Triple T Ranch Tempura duck egg on sweetbreads pancake
Allison: Goat cheese tatin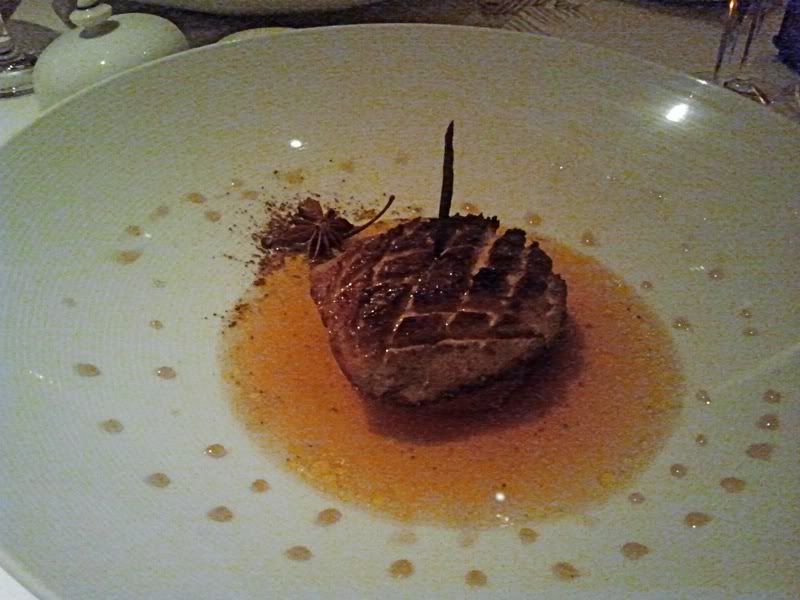 Allison: Seared Hudson Valley Foie Gras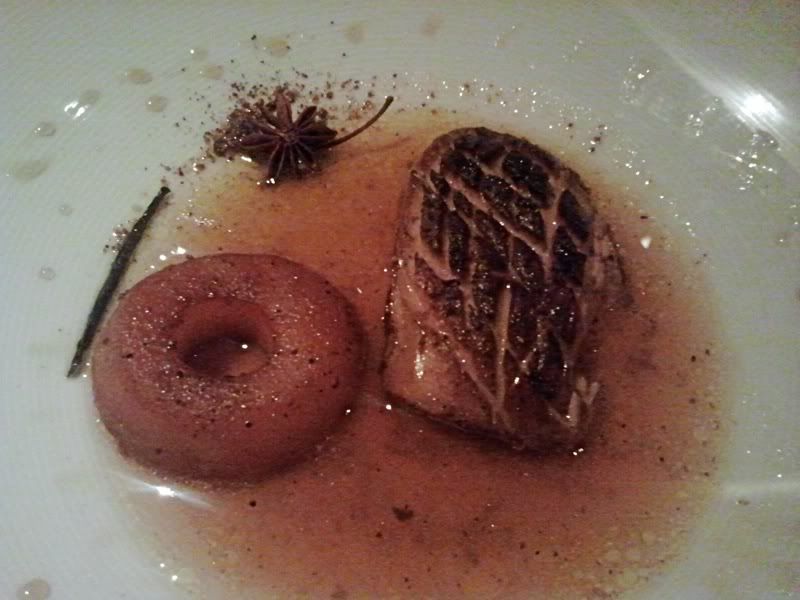 Better picture of the two parts to the Foie Gras...also known as a heart attack on plate. Can you believe that some poor little duck was fed so much that its liver got this big?
Nick: Butterfish on asparagus (the night's special)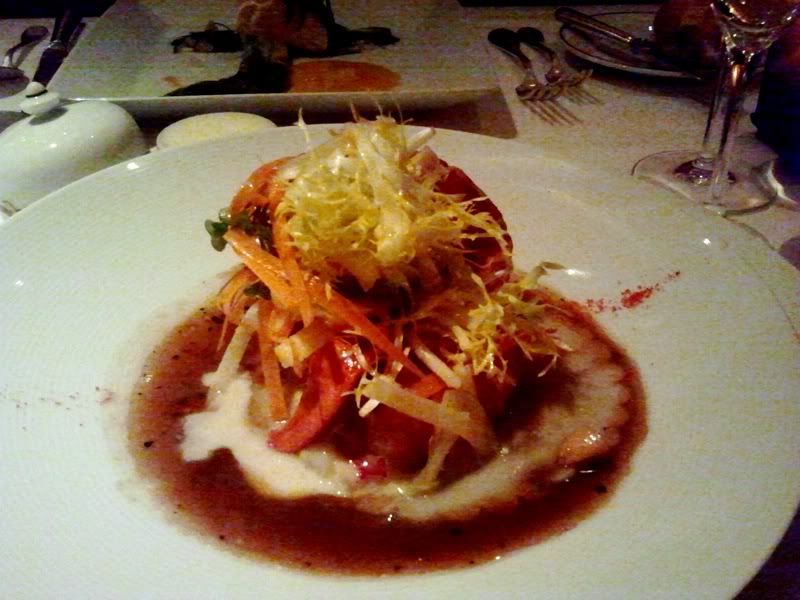 Allison: Butter poached lobster over pumpkin ravioli
This was my least favorite dish because I wasn't fond of the pumpkin.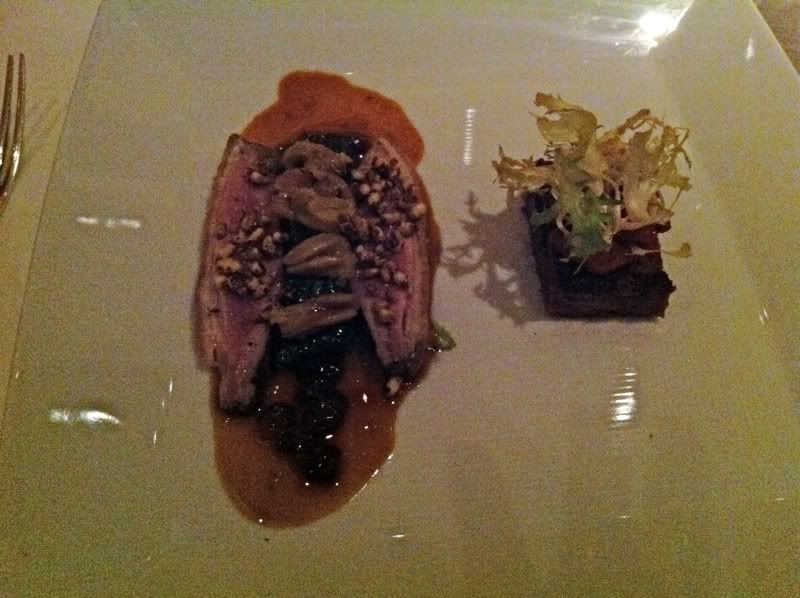 Nick: Duck breast with duck tongue.
Allison: Roasted rack of lamb
Allison: Artisan three cheese plate
Nick got the Creme Brulee cake, but I think by then we had consumed enough champagne to remember to take a picture of it. We brought our own bottle of Mumm's Demi Sec and finished the whole thing. We didn't want to waste it! I was pretty impressed when woman corking our bottle immediately noted that she rarely sees the Demi Sec. I was like "Wow! This gal knows her stuff!" because it is not sold in stores and only at the winery. I just hope we tipped enough at the end of the night because our servers were extremely nice and very helpful.
If you would like to spend a small fortune for some really good food, I highly recommend La Folie.