Oh what a life we live! On Saturday Nick and I went up to Napa for some oysters before heading to the Mumm's winery to pick up champagne for our Valentine's weekend we have coming up. At
Pearl Restaurant
in downtown Napa, they have a wonderful Saturday afternoon happy hour for $1 oysters and $5 glasses of Prosecco between 11am-2pm. We had discovered this during the holidays when we met Linda and Rob there for a nice lunch before they headed to Linda's holiday party. We were flabbergasted by the price of these oysters. They were the cheapest we've ever seen. And they were delicious! At
Bouchon
we order a dozen for $36. Granted, Bouchon has a wider variety and the waiters give the names and locations of where each group of oysters is from, but we can get three dozen for that price and if it comes down to eating a lot of oysters or hearing what they're called, we'll pick quantity.
Not only are their oysters affordable and good quality, their food is really good too. Nick got a cream of cauliflower soup and I got the dungeness crab quesadilla, which was the special of the day. These were both appetizer portions, but with two dozen oysters and their house-made bread, we were pleasantly full...though I could have eaten another quesadilla because it was so good. We were saving our stomachs for dinner because we had plans to go out to San Francisco for Chinese New Year dinner with my extended family. Our bill was way lower than we expected too! Before tip it was only $41 for all of those oysters plus food. Take that Bouchon! I think this may be our new favorite place to come eat oysters. It is well worth the trip. If it wasn't for Nick's gout, I would have order another dozen for dessert. Hehe.
After dinner we headed out to Mumm's winery to pick up some champagne for our upcoming weekend. Nick is taking me to stay at the
Argonaut Hotel
on Fisherman's wharf in San Francisco. I'm quite excited. I made a reservation for
La Folie
on Saturday night since Nick planned the hotel room. It was between La Folie and
Acquerello
, but I wanted French food now that we know how time consuming it is to make. We really wanted to go to
Gary Danko
because it was within walking distance of the hotel, but it was all booked for Valentine's. I was able to make a reservation there for Nick's birthday instead since it wasn't around any major holidays. Woopi! I better study up on my etiquette. Here are some pictures that I swiped off the internet. I will try to remember to take pictures myself this time, unlike in Monterey.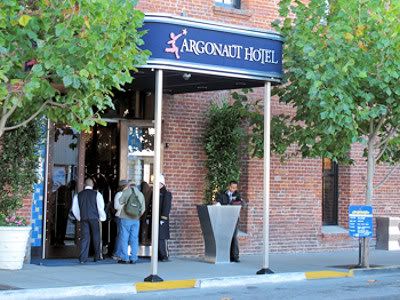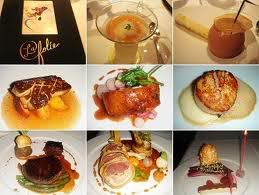 Some of the food selection at La Folie
I got this on e-bay for only $15 including tax!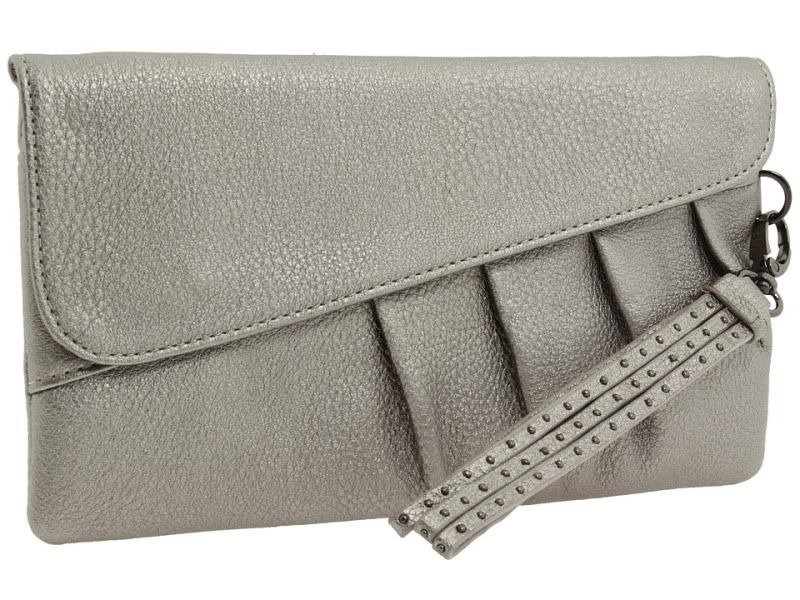 I got this clutch to go with my silver Sex and the City shoes (the shoes are shown at the bottom of the post) that I got for a friend's wedding. I've been wearing the shoes more often and wanted a semi-casual clutch to go with them. This picture shows it as a light gray-silver, but it's more like a gunmetal color. It was really affordable from Zappos.com and the wristlet is detachable. Here is the link to it if anyone is interested in a good sized clutch that is not hard-cased. It also comes in black: Aldo Hasper. I have a silver clutch that matches perfectly with the shoes, but it is more formal and because of the hard-case nature of it, I can only fit my phone, credit cards, and chapstick in it.