If you recall, a while back Nick and I were very excited about a Sharks game with Jen Jen and Brandon because we got to sit up in one of the boxes. As a thank you to them for giving us the tickets, Nick and I made them dinner on Friday night. (It also helped that we really wanted to use their beautiful kitchen again. Hehe.) I didn't want to try anything new out for them in case it turned out terribly, so we made them French Onion Soup and Steak Au Poivre with garlic green beans, which I know is a crowd pleaser. The filet mignon turned out much nicer this time because Nick took the time to hand crush all the pepper with his pepper grinder, where as I tried to take a shortcut and use my Magic Bullet last time. The soup however, wasn't as nice and melty as the first time. I think it is because the recipe called for it to be heated for 20 minutes at 325 degrees, but the last time I heated the oven to 375 degrees. I'm not sure why I didn't follow the recipe last time since it was the first time I was making it, but it turned out better at the higher heat. Knowing myself, I probably read the recipe incorrectly and thought that it said 375 degrees instead of 325. Instead of getting gooey and melty the cheese started to bake, which isn't bad, but not what I wanted. One of these days we'll get the entire meal done correctly. I think it turned out well though.
Jen Jen also made a really pretty tiramisu, but I was so full that I couldn't finish my piece. She used real espresso which made the difference.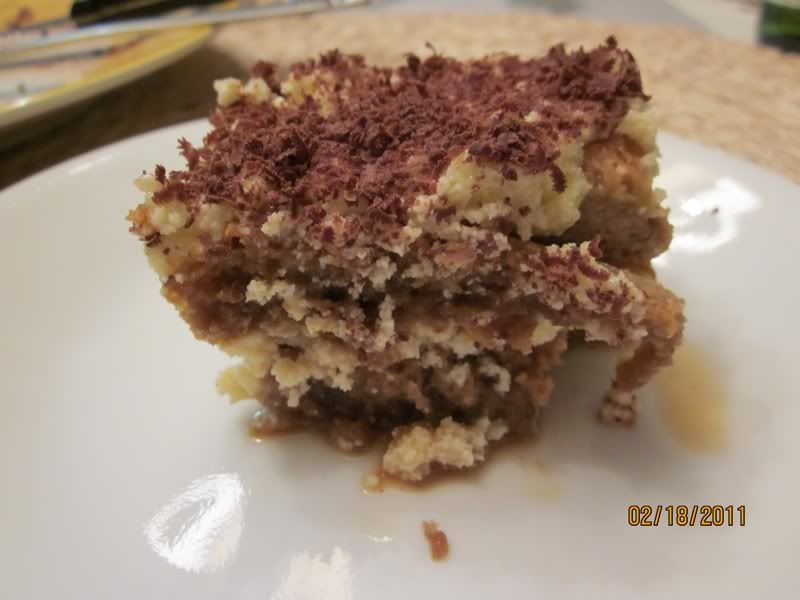 Look how pretty this is!