To prepare for our upcoming Halloween party, I was scouring Pinterest for ideas a couple weekends back. I had seen a recipe for
Apple-Sausage muffins
. (You will clearly see from this link that the baker actually made them from scratch. I did not, though the recipe is entirely my own. I'm quite proud of this fact. This is my first Allison Baking Original!) They looked like tiny upside down apple cakes. I thought the idea was fabulous, however, I wanted them for dessert and not breakfast. On Sunday after watching Nick shoot a round at the
Diablo Action Pistol
competition, I headed to Safeway to pick up some baking goods. As I've said many times in the past, I'm not very good at baking. I'm passable, but generally I get angry when things don't turn out right, nor am I the perfectionist that I'd like to be when it comes to frosting. I'm a cook all the way. Being inspired by the Apple-Sausage muffins, however, got the cogs moving. I decided to use a box cake mix and box pudding mix as my mom and I do with her famous bundt cake. I've transformed the bundt cake into cupcakes to which my friend has dubbed them the Snickerdoodle Cupcake. Basically, you follow the instructions on the box but add a box of pudding and an extra egg to keep it moist. I used the same theory when coming up with this recipe. I purchased a Spice Cake mix and a box of butterscotch pudding. I considered making my own caramel but my lazy side took over and I bought a tub of pre-made caramel sauce. I do some recipes from scratch, but I really like box mixes. I figured that if Hamburger Helper is what got me into cooking that boxed cake mix can get me into baking. You can use any brand of Spice Cake mix, but Betty Crocker was on sale when I was at the store.
I was afraid that the cakes would come up extremely sweet because of the caramel sauce, but the Spice Cake mix really helped mellow it out. My coworker and I came up with the name Apple Churropie because it tastes like a combination of apple pie and a churro. I plan to serve these warm a la mode with
Caramel Praline Crunch
ice cream and a sprinkle of cinnamon.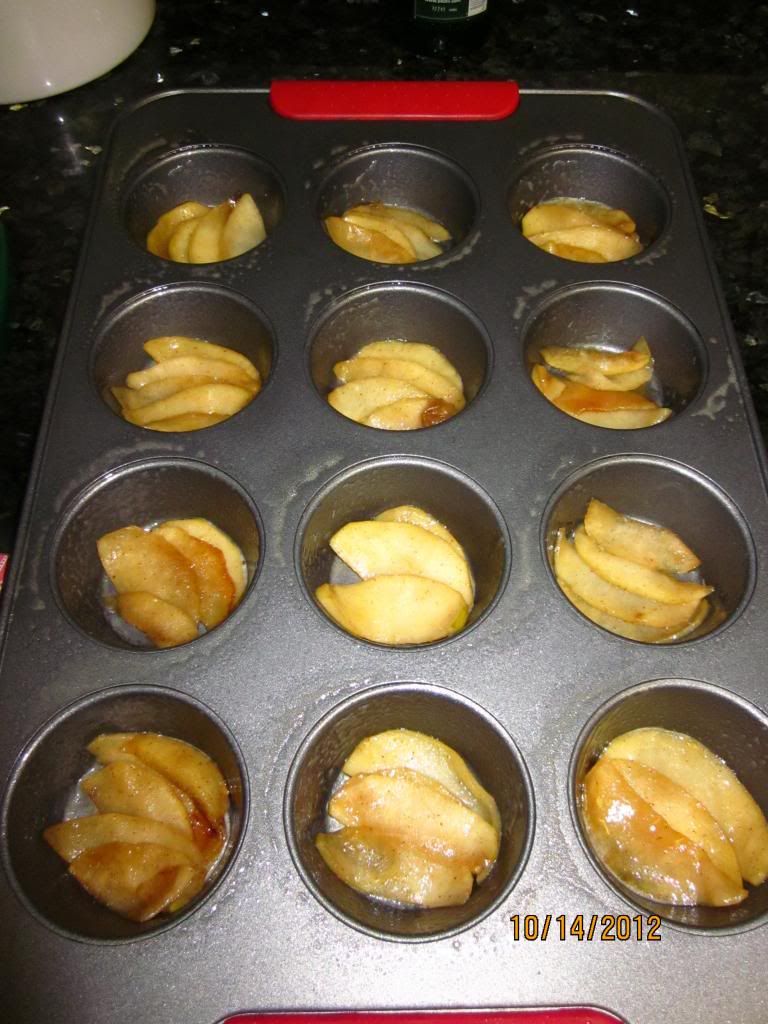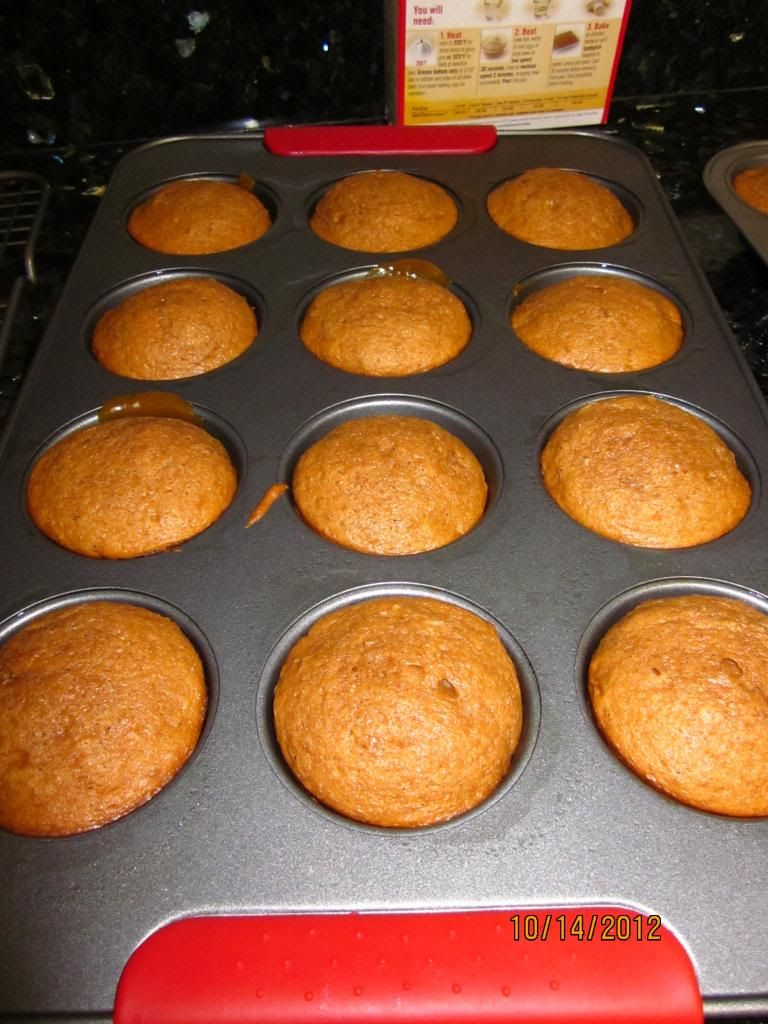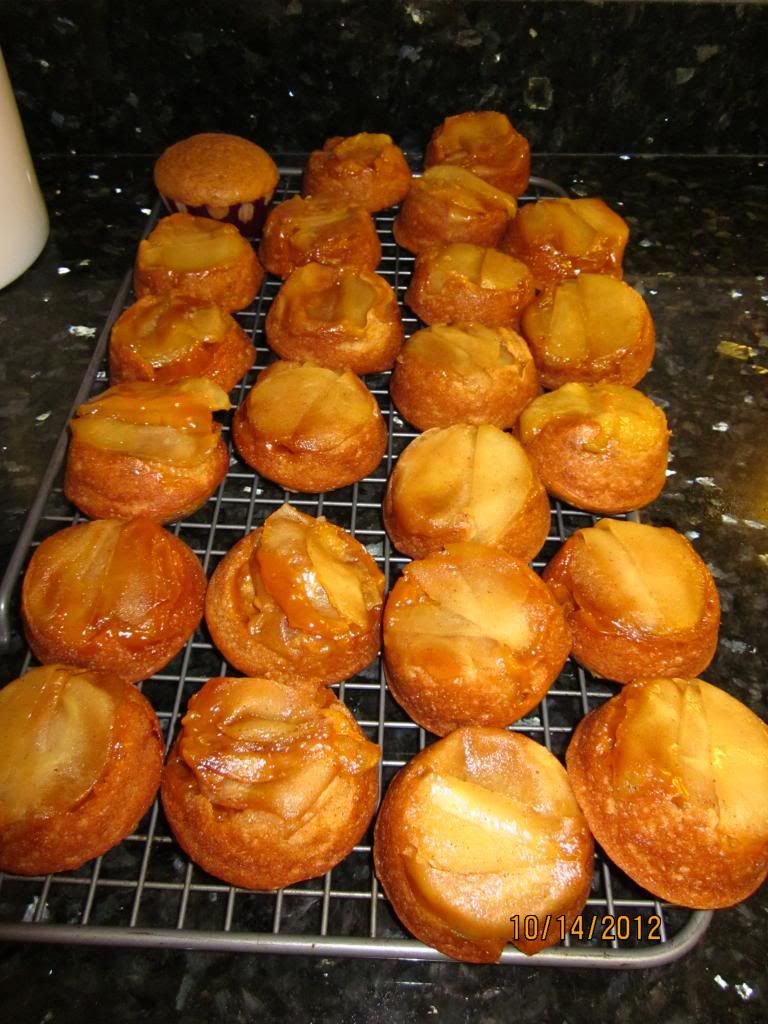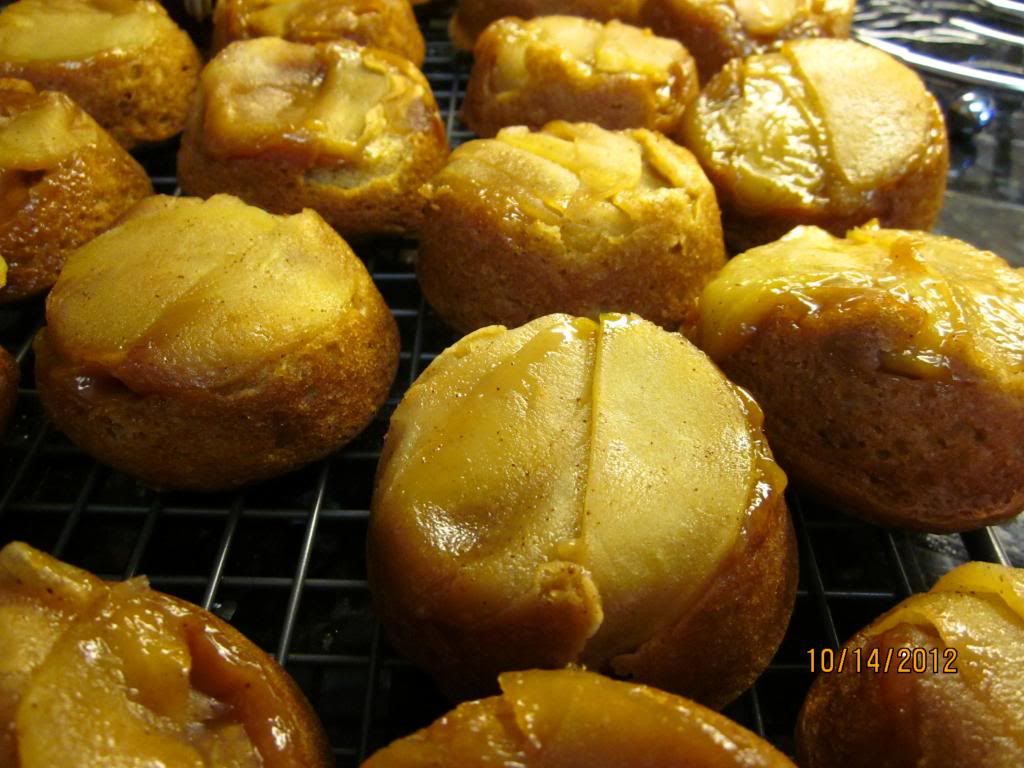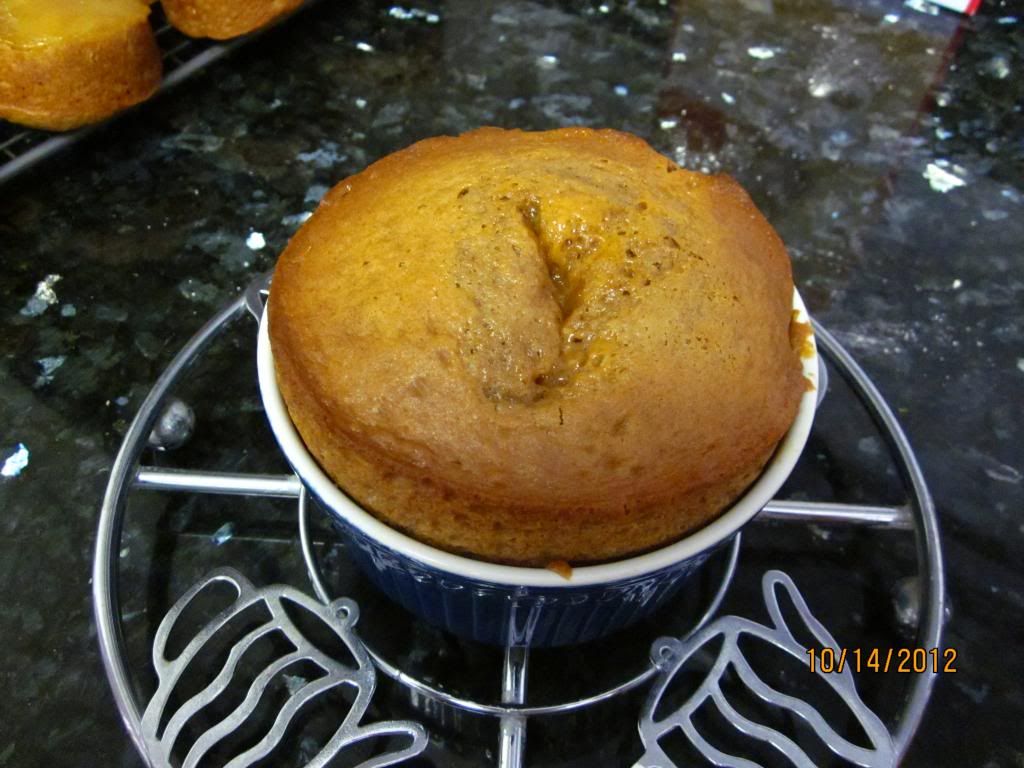 I made a caramel cake for Nick and Christopher with the left over batter and
caramel by pouring in batter, caramel, batter, caramel, and more batter. I baked
it at 350 for 45 minutes.
Apple Churropie
Yields: 24 cupcakes
1 box Spice Cake Mix
1 3.4 oz box butterscotch pudding
4 eggs
1 c water
1/4 vegetable oil
1 tsp ground cinnamon
2 Fuji apples, peeled and thinly sliced
2 tbsp butter
1 tbsp cinnamon
2 tbsp brown sugar
PAM cooking spray
1 tub caramel sauce
Directions:
Preheat oven to 350 degrees. Combine spice mix, pudding, eggs, water, vegetable oil, and tsp cinnamon. Mix until there are no lumps. In a frying pan, melt together butter, brown sugar and cinnamon. Once fully melted, add apples. Cook apples on medium heat until translucent. About 10 minutes. Remove from heat.
Heavily spray cupcake pan with PAM (or similar cooking oil). Neatly place two to three apples at the bottom of the cupcake tin. Place half a tsp of caramel sauce on top of the apples. Using a small cookie scoop, layer two scoops of Spice Cake batter on top. Do not over fill. Bake at 350 for 17-25 min or as directed on the box.
Let thoroughly cool. Gently pull the cake off the sides of the pan. Using a large cutting board, place on top of cupcakes and flip over to remove. It doesn't matter if they get squished since they'll be upside down anyway.