As if we didn't get our fix for Chinese food at dim sum with my grandma, we had an Autumn Festival dinner planned with Nick's side of the family. Nick and I weren't even that hungry since our lunch was so big, but we still managed to pack it away. We always seem to manage to pack it away. I also made cupcakes for Emmy's (Nick's niece) sixth birthday. A lot of the pictures are blurry because I was trying to quickly take pictures without the family getting annoyed that they couldn't touch the food until after the picture was taken. Since going to Malaysia, Nick's family knows my picture tenancies pretty well.
I finally just bought myself an iPhone5 so hopefully the pictures will start looking better as I've heard that it has a really good camera on it. For now, I am using my Dad's phone since he doesn't use it much and will be traveling overseas where he can't use it anyway. My phone is on its last leg. I was just trying to wait out my contract for an upgrade. I'm not even going to go into the giant list of problems it was having, but I'm staying away from Androids for a while. Maybe after I'm fed up with the iPhone I'll go back, but for now I'm steering clear. Though if it's anything like how I feel about Macs and PCs, I won't be going back to an Android unless I have to for work.
Melissa called this the Asian charcuterie. On top is crispy pork skin, in front is
jelly fish, sides are some kind of delicious mystery deli meat, and the green is a
seaweed salad.
We usually get duck, but tonight we got a goose.
I've never actually had goose. I've had goose
intestines, but never actual goose. It was just
okay. A little tough and dry for my liking. I expected
it to taste more like duck, but it was closer to a dark meat
turkey.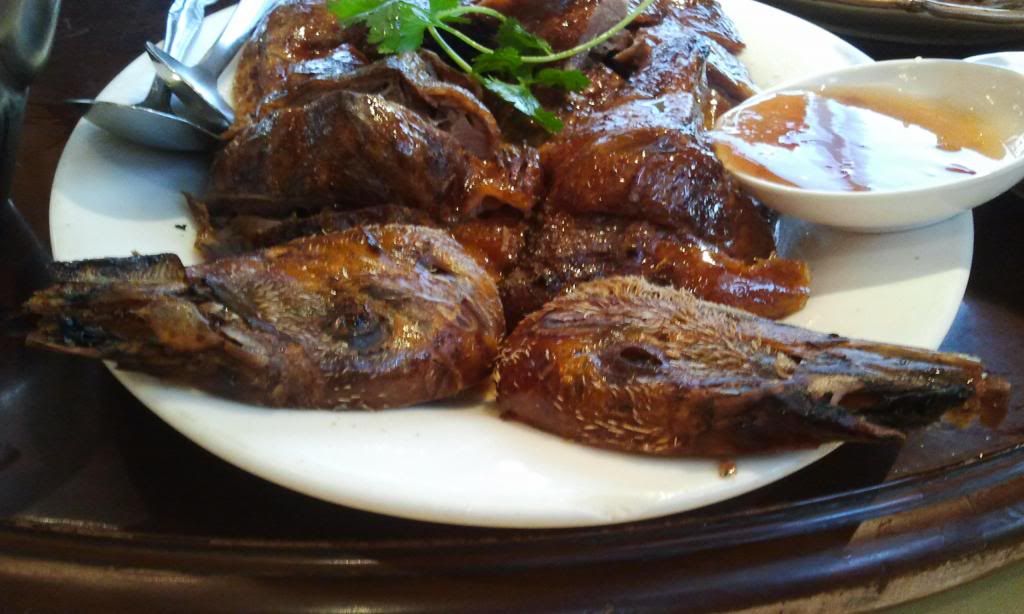 Shark fin soup. Nick ate mine since I don't eat it for ethical reasons. This is
what happens when I watch the Discovery Channel. I end up not eating things
that I love. Birds Nest Soup is another one.
I was pretty pleased by the outcome of these cupcakes. It was a pretty warm
day in Walnut Creek so by the time we drove them to Oakland the frosting had
melted in the trunk. I was disappointed, but everyone still seemed to like them
well enough.