This weekend was jam packed with events, one of which was a baby shower luncheon for a good friend of mine. For the last month I've been thinking about what I could make her that would be personalized. I decided on making some burp cloths and blankets since they seemed easy enough to make. After putting it off for weeks, I was scrambling to make the burp cloths because I kept psyching myself out thinking that I would royally mess them up and I'd waste all the fabric I bought. For those of you who know, my sewing has never been great. My repertoire consists of scrunchies, pillow cases, draw string bags,
infinity scarves
and now burp cloths. I like to stick with straight lines. I was even getting my mom confused on how I wanted to have them sewn. She is the seamstress in our family. After much chatter about how they should be done, Christopher said, "What's so hard about this? They're just straight lines." He was right of course, but I have a knack at making things more difficult than they really are. I was afraid to cut the fabric in the wrong place and have short, stubby, stupid-looking burp cloths. I know, so much thought for something that's going to get puked on. Nevertheless, they turned out fairly well and my friend is quite pleased. Nick also enjoyed these and now wants a new Star Wars pillow case and for me to make more burp cloths in 49ers fabric for a friend of his who just had a baby boy. Looks like there is more sewing in my future. After that, the sewing machine is going into storage for a very long time.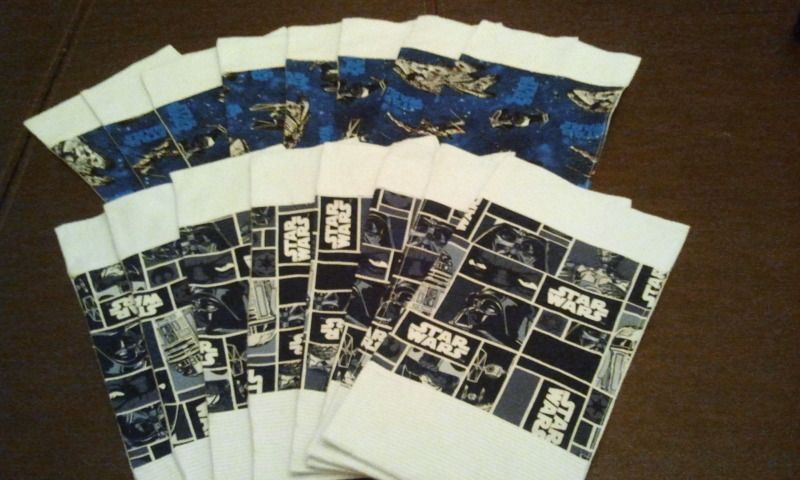 I strategically placed these so that you can't tell they're all slightly different
sizes. On some of them I had cut off the salvage and some I didn't, which
made them about a 1/4in longer or shorter. The print in front has a flannely
blue stripped cloth and the print in the back has a flannely blue polka dotted
fabric.
My friend and her husband love Star Wars.
I had first looked on Etsy.com for Star Wars
burp cloths, but they were $15 for a set of three.
That is when I got the idea into my head that I
could just make them myself. I'm not going to say
how much I spent since she reads my blog regularly,
but I definitely got more for my money.
I made 16 cloths in total.
I'm not sure what these are called, but being a
dog owner I've dubbed this the pacifier leash.
I knew she had registered for one and I think
this is an ingenious idea. I always thought it
was gross that kids' pacifiers would fall out of
their mouths to the floor and parents would give
it back to them. Oh, the horror. To keep with the
theme, I used some scraps to make this one. It's
definitely not perfect, but I really did try my best
without having a pattern to follow.
This fabric was very different from the rest
of the gift. I debated not giving it to her because
it wasn't cohesive with the baby blue theme, but
I figured that I would have no use for it. I got this
fabric because it screamed boy to me. I bought
it on a whim, but when I got home I abhorred the
contrast to the rest of the gift. I also knew that it
didn't match her color scheme to the room that she
is putting together in the slightest. I decided to give
it to her anyway. It can be a car blanky or something.