For some reason I woke up at 8am on Sunday morning and couldn't get back to sleep. Nick's foot was feeling better so he was up getting ready for an action pistol match. We headed out at the same time and I was able to go to Target before the crowds hit, a new grocery store in our area called
Sprouts
, and to
Lunardi's
for
Sugar Pie
pumpkins. I love Sprouts. I think it's the closest that we'll get to a food co-op in our area. Their vegetables were fantastic and they had bins in the center of the store where you can scoop the exact amount of product that you want/need. I was so excited to see bins of specialty flours and seeds at a very affordable price and loads of different dried fruit that will make for great baking without breaking the bank. A pound of dried cranberries was only $3.99/lbs! That is a steal! I'm super pumped about this store opening up within a mile of our condo. I got two beautiful (and huge) yellow bell peppers for $1! From the sounds of it, Sprouts gets shipments in almost daily from local farms. I had also wanted to go to Lunardi's to get their Sugar Pie pumpkins. They were so perfect looking and only $0.99/lbs. I'm using them as Halloween decorations and afterwards making them into a stew. I love that they are multipurpose.
After shopping for all of my supplies, I really wanted to get some pho. Nick was at his shooting match and Christopher wasn't hungry enough to go to brunch so I picked up a magazine at Rite Aid and headed to pho by myself. By the time I got home at 11am, I was ready for a food coma nap. Around noon, after being horizontal for a while, I decided that I wanted to get the sewing machine put away in our storage unit. Nick wanted me to make his friends a few 49ers burp cloths for their new baby after he saw the Star Wars ones that I made for Genna. This meant that I had to make them in order to put the sewing machine away. At least this time I knew what I was doing. I struggled with the bobbin in the beginning, but once I got going, it was fast work. I don't think that these turned out as well because the red fabric was stretchy. The red fabric also can't be ironed that much because the cute little puffed dots iron out. This made it difficult to iron down when I was finished. But they're done and the sewing machine is out of the way. That is what I care about.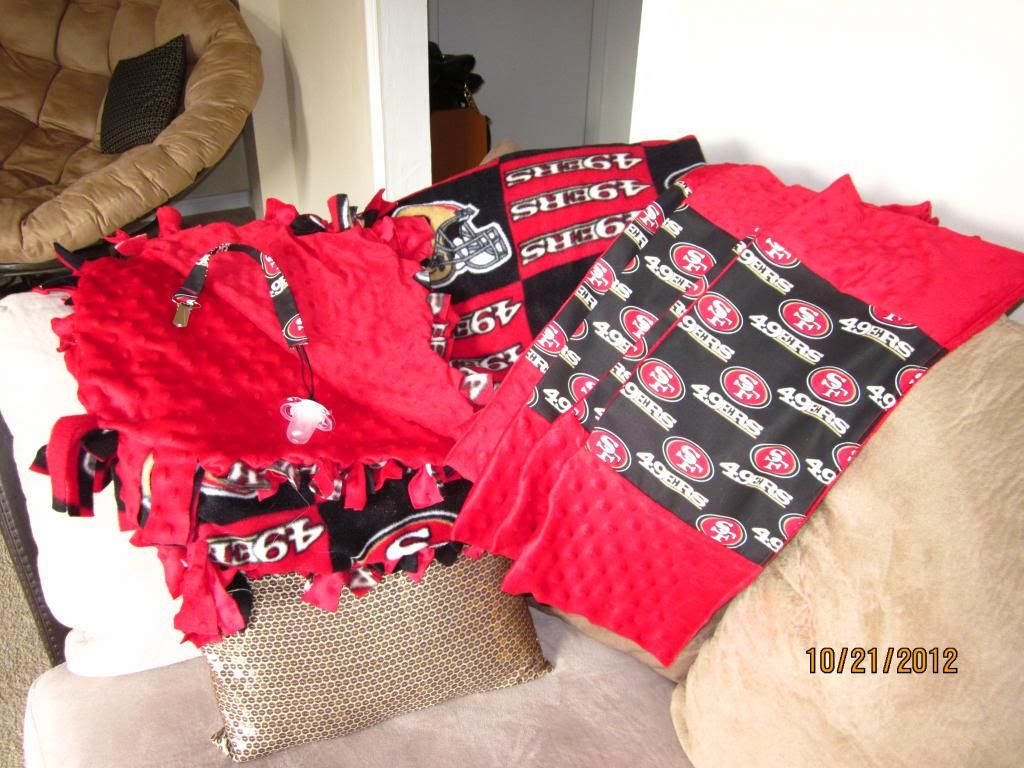 I was pleased once these were complete. They've been looming for a while now. With the excess 49ers fabric I made two wine bottle covers/sleeves for when we go to holiday parties and bring over wine. Next up was to decorate my wine bottles for the Halloween dinner. I had purchased some Martha Stewart wine labels last weekend. They are self adhering and look so much better than the ones that I was trying to make. It really is just easier to buy things sometimes. They turned out so well! I left the original labels on the back so that we know what we're drinking.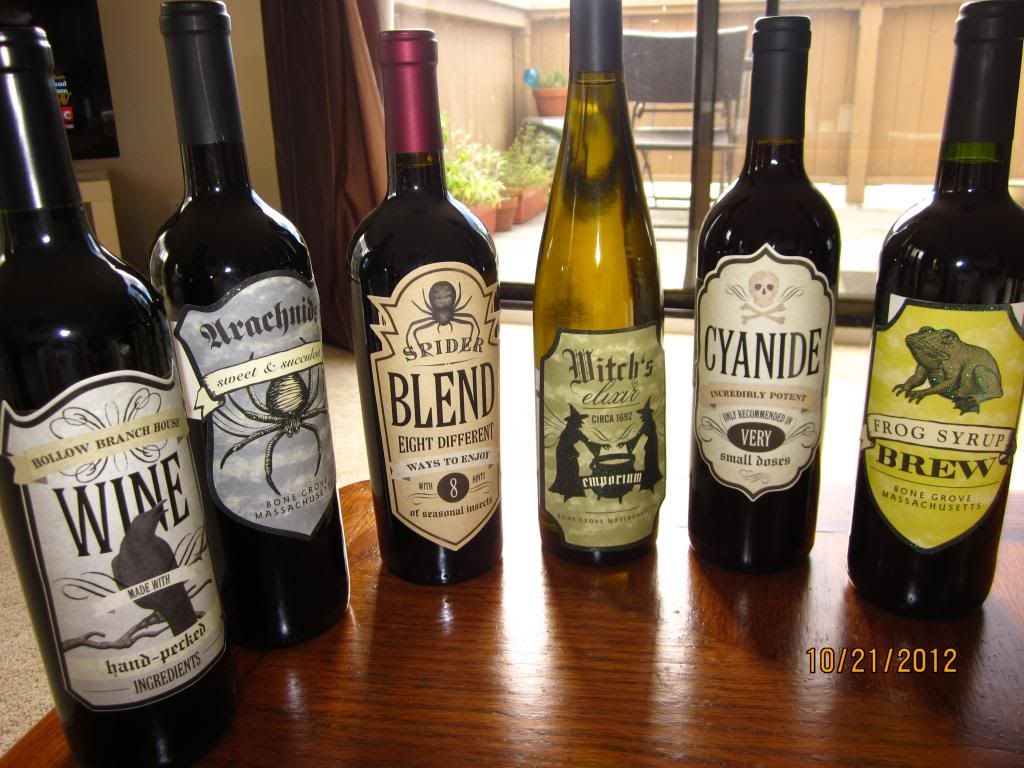 The best thing I did today were the
bloody candles
. They were so simple to make and I am
extremely
pleased with them. They started out as regular white pillar candles that I got at Joann's on sale. I burned them down throughout the week to get a nice used shape. Using a red taper candle, I just dripped the red candle onto the white. I got this idea from, of course, Pinterest. They couldn't have turned out better.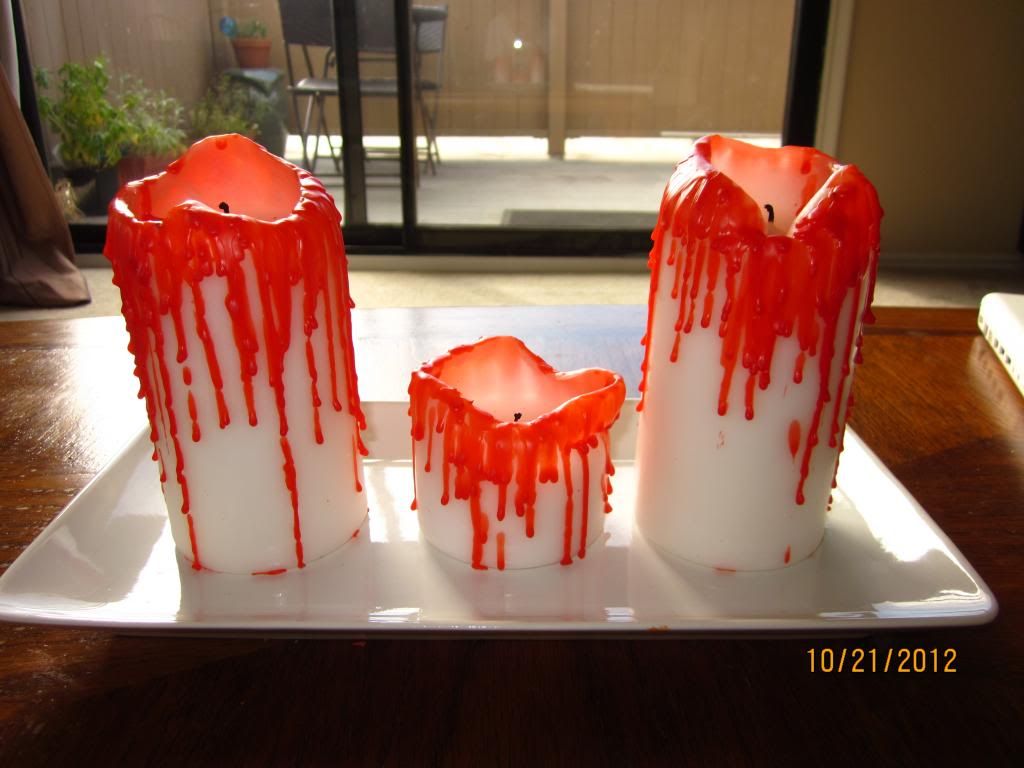 I was on a roll so I also made a double batch of ginger cookies for both of our offices. I had forgotten the baking soda so they turned out a little flat, but they are still pretty tasty. I'm a little rusty from not baking during the hot summer.