It's been getting a little chilly here and I had half a container of chicken stock left in my fridge. I also didn't want to have pork roasts all week. I love pork, but I like it in more shapes than just a misshapen pink square. I chopped up a large onion, two shallots and a handful of garlic. Sliced some mushrooms, cubed some zucchini and chopped up the pork into bite-sized pieces. I coated the pork in a soy sauce mixture and browned the pork cubes in my soup pot. Recipe is below as now that I'm going into a description, it is more involved than I realized. Sometimes I just keep adding and adding things and I don't even realize.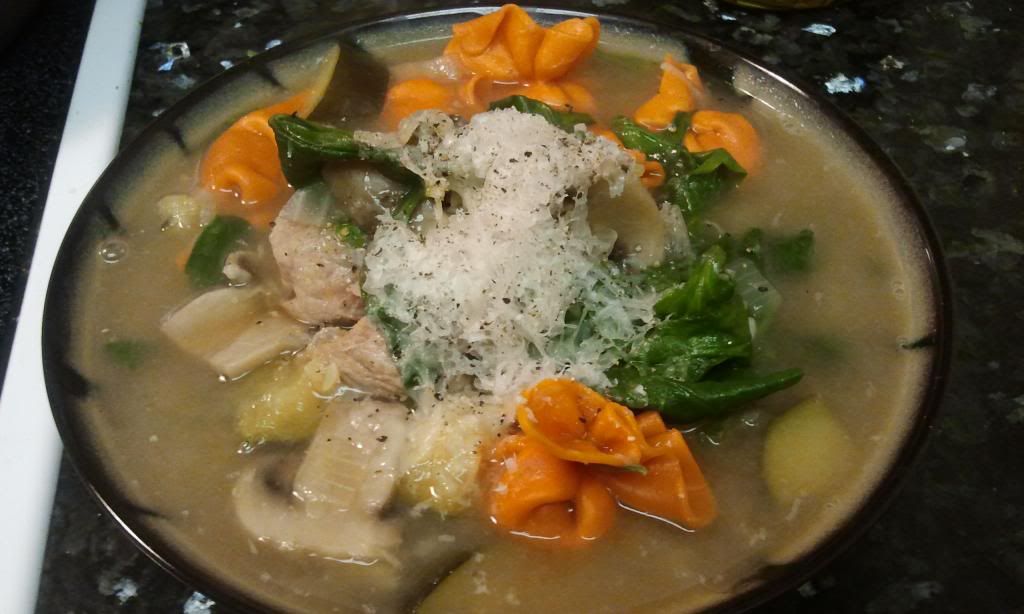 2 zucchini, cubed

1 large onion, minced

2 shallots, sliced

5 cloves garlic, sliced

8 large mushrooms, sliced
1 tbsp corn starch
2 c dry riesling

5 c chicken stock
pumpkin pasta or ravioli
fresh parmesan





Combine soy sauce and corn starch until fully incorporated. Pour over pork to coat, mix. Over medium-high heat, brown pork cubes. Remove once browned and set aside. Add more oil if needed. Over medium heat, saute zucchini, onion, shallots, garlic, and mushroom for 5-6 minutes. Add riesling, let reduce by half. Add chicken stock and white pepper. Bring to a boil and then drop heat to medium. Leave at a slow boil for 1.5-2 hours. (Pork will become tender.) Once ready to eat, bring back to rapid boil and add fresh ravioli for 3-4 minutes. Add baby spinach to wilt. Grate parmesan and black pepper to garnish.